Vogelsong twirls gem to thwart Pirates
Vogelsong twirls gem to thwart Pirates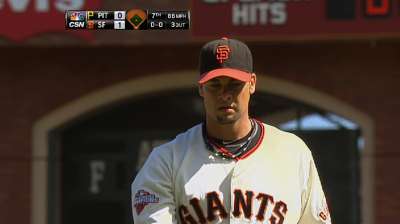 SAN FRANCISCO -- That was a baseball cap Ryan Vogelsong doffed twice with his right hand to cheering fans before entering the dugout in the middle of Sunday's eighth inning at AT&T Park. He wore his fielder's glove on his left hand, which he also extended toward spectators to acknowledge their ovation.
To the Giants, Vogelsong might as well have had a paintbrush in one hand and a palette in the other.
"He really put on a show in the art of pitching," manager Bruce Bochy said of Vogelsong, who allowed just four batters to reach base safely in eight innings as the Giants subdued the Pittsburgh Pirates, 4-0. "That's one of the best-pitched games we've had this year."
Continuing to improve dramatically since recovering from a fractured right pinkie, Vogelsong delivered one of his finest Major League performances. Making his fourth start since spending 2 1/2 months on the disabled list, Vogelsong worked eight innings for the fourth time in his career. The two singles he allowed was his lowest total in any of those games. He walked one and hit a batter while allowing only two Pirates to advance as far as second base.
Throughout his 98-pitch outing, Vogelsong (3-4) maintained the stern concentration that has become his hallmark.
"He's a horse," Giants catcher Buster Posey said. "He's a guy who brings a certain intensity every time he's out there. He's the type of person you want on the mound."
Asked how enjoyable it is to play behind Vogelsong on such an afternoon, right fielder Hunter Pence said, "I wouldn't say just a day like this. It really is an honor and a joy to be behind him."
The Pirates obviously felt differently, though they could appreciate Vogelsong's mastery.
"He just changed speeds and [it] always seemed like where we were looking, something else came out of his hand," Pittsburgh manager Clint Hurdle said. "He controlled the bat speed all day long."
Said first baseman Garrett Jones, "He doesn't give in. He can throw any of his pitches on the corners."
Vogelsong received ample help as the Giants emerged with a split of the four-game series. Posey recorded one of his best all-around performances of the year, singling home a third-inning run off Pirates starter A.J. Burnett (6-9) before singling and scoring in the eighth. Posey also threw out Andrew Lambo on a fifth-inning stolen-base attempt and pounced on a Burnett bunt to start a sixth-inning double play.
"I felt like it was close enough to me where I had a shot," Posey said of his daring throw to second base to retire Jordy Mercer on the double play's front end. "At that point, it's either all or nothing."
Third baseman Pablo Sandoval displayed the spryness that comes with losing 20 pounds when he made a leaping catch of Andrew McCutchen's first-inning liner.
"He bounced around like a cat," Bochy said.
Sandoval added his first triple since Aug. 18, 2012, at San Diego to drive in two of the Giants' three eighth-inning runs that sealed the decision.
"That's something we've lacked a little bit of," Posey said of the Giants' emphatic finish.
Vogelsong lacked nothing. He hasn't regained his peak velocity, but his ability to locate each pitch put a silencer on the radar gun.
"I do think you can get caught up in velocity too much," Bochy said. "It's all about command and movement. You get caught up in velocity, you start missing your spots. You pitch with what you have."
What Vogelsong now has is control, contrasting with his first eight starts. Then, he averaged 4.1 walks per nine innings. In his last two games, he has issued two walks in seven innings for a nine-inning average of 1.2. He has finally fixed mechanical flaws in his delivery that affected his accuracy.
"Early in the season, I couldn't find anything that was comfortable," he said.
Vogelsong didn't feel comfortable about trying to pitch his first nine-inning complete game. "I was pretty wiped out," he said, citing a recent head cold.
The right-hander had enough energy to gesture to the fans, in gratitude for their appreciation, as he left the mound following his final inning.
"It's important to recognize them," he said. "They've stuck with us through an obviously tough season, and they keep showing up and cheering for us. It's nice to recognize that and tell them that you hear them."
Chris Haft is a reporter for MLB.com. This story was not subject to the approval of Major League Baseball or its clubs.