Padres outlast Cubs in 15-inning marathon
Padres outlast Cubs in 15-inning marathon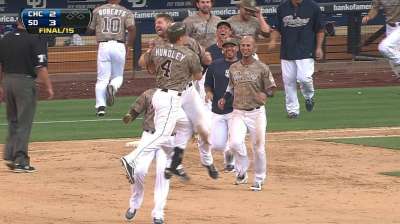 SAN DIEGO -- When Nick Hundley stepped to the plate in a tie game in the 15th inning, Padres manager Bud Black had a feeling the marathon was about to end.
Not that any of Black's premonitions were worth much anyway on Sunday.
"I had that sense about six times that somebody was going to end it," Black kidded after the game.
Hundley finally did just that with an RBI single off Cubs reliever Hector Rondon, capping a bizarre and exhilarating 3-2 Padres win.
The five-hour, 13-minute affair marked the seventh-longest game, innings-wise, in Petco Park history. Twelve scoreless frames were followed by three of the wackiest and tensest frames of the year.
"It was some of the weirdest baseball I've seen," said Padres starter Andrew Cashner.
And that was an understatement.
With the bases loaded and the game scoreless in the top of the 13th, Cubs right fielder Nate Schierholtz hit what appeared to be an easy double-play ball to first. But Jesus Guzman's throw home hit a stumbling Schierholtz in the helmet, and the ball bounced away, allowing the first run to score.
"I just looked up, and it was right in front of my face, and I think I turned my head just a little bit," Schierholtz said. "It wouldn't have been fun if I took it right in the face."
The Cubs scored another in the frame on a sac fly and handed the ball over to their reliable closer, Kevin Gregg.
Only Gregg wasn't so reliable on Sunday. Friars shortstop Ronny Cedeno smashed an RBI triple to center field with two outs and came around to score two pitches later on a wild pitch. Cedeno hesitated before darting home, and it looked as though Cubs catcher Welington Castillo would have had him at the plate had his throw not sailed past a charging Gregg.
"He made a decision to go, and from my perspective it looked as though -- if there was a good throw and tag -- that he probably would have been out," Black said. "But I also know that ... isn't a play that's practiced much. It's more of an athletic play."
Cedeno slid in safely, and the soundboard operators at Petco Park queued up the 14th-inning stretch.
Shortly after the crowd had finished singing for the second time, the Padres had a golden opportunity, putting runners on second and third with one out. But left-handed pitcher Eric Stults -- batting because no position players remained on the bench -- and third baseman Chase Headley each struck out.
Headley argued with home-plate umpire Paul Schrieber after Headley was punched out, but without any remaining reserves, Black sprinted to usher Headley off the field. Fittingly -- given the strange events of the day -- it was Headley who made three very nice defensive plays a half-inning later to keep the game tied and set the stage for Hundley's third career walk-off hit.
"Any time you go long like that, it adds a little more pressure to win," Hundley said. "Losing games like this takes a little more out of you, and winning games like this gives you a little bit more momentum."
Lost in the shuffle was the dazzling performance of Cashner, who showed the Cubs just what they're missing out on. Cashner, after all, was selected by Chicago in the first round of the 2008 Draft, but was shipped to San Diego before the '12 season.
The fireballing right-hander certainly gave Chicago a good look at his talents. He pitched seven innings of two-hit ball, striking out seven. His fastball remained in the upper 90s throughout, and -- more importantly -- he was around the zone all afternoon, throwing 78 of his 108 pitches for strikes.
"Today has really been the first day that I had three pitches working throughout the entire game," Cashner said. "My sinker was really good today, and pitching my fastball to both sides of the plate allowed my slider and changeup to be so good."
The Padres' bullpen stayed in its brilliant form, tossing eight innings of two-run ball. Brad Boxberger was the only pitcher to stumble, but he settled down to limit the Cubs in the 13th and followed that by tossing a scoreless 14th.
Hundley, meanwhile, is now hitting .333 with four RBIs in the seven games since his wife gave birth to a daughter, Allison.
"I probably should have slept less when I wasn't a dad," he kidded.
Hundley acknowledged that the game likely wouldn't have lasted 15 innings had he been able to execute one of two failed bunt attempts in the 10th and 12th innings, respectively.
The Padres now head to Arizona on a later-than-expected flight, set to begin a six-game road trip.
"It'll be a great flight," Hundley said with an ear-to-ear grin. "It'll be a lot of fun."
AJ Cassavell is a reporter for MLB.com. Follow him on Twitter @ajcassavell. This story was not subject to the approval of Major League Baseball or its clubs.