Nationals' win streak ends despite power rally
Nationals' win streak ends despite power rally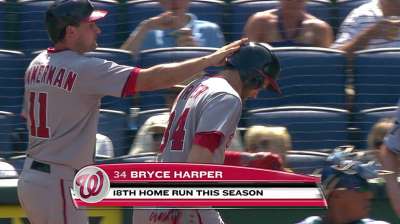 KANSAS CITY -- Defensive lapses ended up hurting the Nationals in a 6-4 defeat to the Royals at Kauffman Stadium on Sunday afternoon. The loss snapped a five-game winning streak, but Washington remains 8 1/2 games behind the Reds for the second and final spot in the National League Wild Card race.
The score was tied at 4 when Kansas City pushed ahead against reliever Craig Stammen with two outs in the eighth inning. A couple of times it looked like Stammen was going to get out of the inning unscathed. Billy Butler hit a ground ball to first baseman Adam LaRoche, who bobbled it, but there was still plenty of time to get Butler, one of the slowest runners in the Majors. But Stammen didn't cover first base and Butler reached on an infield single to extend the inning.
"I just froze," Stammen said. "When it bounced away [from LaRoche], I was like, 'Go after the ball or go to the base?' Obviously, I needed to go to the base."
Even though Stammen didn't cover the base, LaRoche still had plenty of time to beat Butler himself.
"It was a cue shot from a righty. It's not something you can work on," LaRoche said. "There is no way to mimic it. I'm not sure what [the ball] is going to do when it skips. I didn't know it was going to touch my glove. I put my glove where I think it's going to be. It slid by my foot. Initially, I thought it kicked more towards the bag. I look back and it's headed toward the opposite direction. That was a big play. It would have got us out of the inning. It gives us a chance. We missed it."
Butler was surprised that Stammen wasn't covering first base on the play.
"That's what cost them," Butler said. "The pitcher is supposed to get over there. They'd have had me, I don't run very well. All I could do was run hard and I beat him."
After Mike Moustakas drew a walk to load the bases, Salvador Perez hit a slow liner that bounced in front of shortstop Ian Desmond, who tried to get the force at third, but Butler was ruled safe on the play and Eric Hosmer scored the go-ahead run.
Desmond went after Butler at third because he was the slowest runner on base.
"The guy hit the ball good to me. My main objective was to keep the ball in the infield and not let two runs score," Desmond said. "When I knocked it down, I happened to look up and I saw Billy Butler looking at me, so I got rid of it to [third baseman Ryan Zimmerman] real quick. We weren't able to get the force at third. It's one of those things."
David Lough then singled to right field, scoring Butler to make it a two-run game.
"Tough way to lose a ballgame after we battled back," manager Davey Johnson said.
Nationals right-hander Dan Haren got off to a slow start, allowing four runs in the first inning. Alex Gordon led off with a home run. On a hit-and-run play, Emilio Bonifacio scored from first on a single by Hosmer. Three batters later, Perez hit a two-run homer.
In that first inning, Haren said he felt uncomfortable on the mound at Kauffman Stadium, where it was 92 degrees at first pitch.
"I was overheating a little bit," Haren said. "Coming out of the bullpen, I couldn't catch my breath. The Royals came out hacking. … I was really in trouble from the get-go."
Haren was able to change his jersey after the first inning, settled down and held the Royals scoreless for the next six innings on four hits.
"I was determined to keep the team in the game and throw as many zeros as I could," Haren said. [The Royals] are a good ballclub. They needed the game as much as we did. So, it was going to be a fight to the end."
Holding the Royals in check allowed the Nationals to make their comeback against right-hander Ervin Santana. Washington scored its first run in the fourth inning, when Desmond hit a monster home run over the left-field wall that traveled 431 feet.
In the seventh inning, the Nationals were able to tie the score with two outs. Denard Span hit a first-pitch home run over the right-center-field wall to make it a 4-2 game.
Zimmerman followed with a single to left field. Bryce Harper, who fouled a ball off his left foot in the sixth, hit an opposite-field home run over the left-field wall to tie the game at 4.
"He gave me a pitch I could drive. I got something I could do with it," Harper said.
The Nationals went 6-4 on their road trip during which the bats really came back to life.
"We showed a lot of heart coming back," Haren said. "We didn't win, but all in all, it was a pretty good road trip. Having a winning record in a long road trip I think is good. It's time to go home and take care of business."
The Nationals go back to Nationals Park starting Tuesday to face the Marlins and the Mets, two teams that have records below .500.
"We are playing some teams we should beat, but sometimes those are the toughest games," Span said. "It's getting toward the end of the year. They have a lot of young guys that are probably [called] up, some guys we haven't faced. We just have to keep doing what we are doing. We are playing good baseball right now. We just have to keep the momentum going."
Bill Ladson is a reporter for MLB.com and writes an MLBlog, All Nats All the time. He also could be found on Twitter @WashingNats. This story was not subject to the approval of Major League Baseball or its clubs.