Street rediscovering dominant form out of 'pen
Street rediscovering dominant form out of 'pen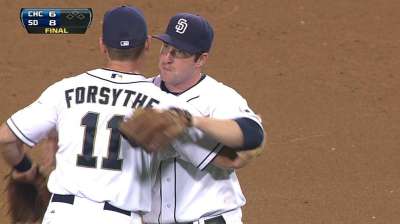 SAN DIEGO -- Padres closer Huston Street is playing baseball's version of "chicken or the egg."
So which came first -- the confidence or the effectiveness? It doesn't matter much to San Diego manager Bud Black. He's just happy to see his closer finding the same groove he seemed to have throughout the 2012 season.
"I'm seeing better arm speed in all his pitches," Black said. "With that, I think you're seeing an uptick in velocity. The spin on the slider is much better.
"And because the results are better, his confidence is high. When any player is playing with confidence, that's a great mental edge."
Street is certainly pitching with an edge of late. After firing a scoreless inning on Sunday, he hasn't allowed a run in his last 17 1/3 frames, the longest streak by a Padres reliever this season. During that time, he has lowered his ERA from 4.78 to 2.89.
Street has been incredibly efficient, too -- an invaluable trait for any reliever. In his 16 consecutive scoreless outings, he has needed more than 15 pitches only three times.
"He's trusting his stuff," Black said. "That's what happens when things go your way."
AJ Cassavell is a reporter for MLB.com. Follow him on Twitter @ajcassavell. This story was not subject to the approval of Major League Baseball or its clubs.