Rookie Sanchez learning as Liriano's personal catcher
Rookie Sanchez learning as Liriano's personal catcher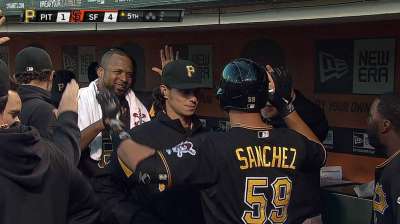 SAN FRANCISCO -- The May-December "marriage" of left-hander Francisco Liriano and catcher Tony Sanchez qualifies as one of the Pirates' more fascinating pennant-race developments.
Sanchez, a rookie with 15 total games of Major League experience, has been anointed the personal catcher for Liriano, a veteran in his eighth big league season. Liriano's rank as the current ace of the Pittsburgh staff makes the arrangement even more noteworthy.
Pirates manager Clint Hurdle had double motives for the pairing: a way of scheduling regular games off for primary catcher Russell Martin, and to accelerate the baseball education of Sanchez, rated the Pirates' No. 12 prospect by MLB.com.
"Frankie is a veteran pitcher who knows what he wants to throw and can teach the young man," Hurdle said. "Also, Tony's strength is his ball-blocking ability, and Frankie can be a tough one on chase pitches in the dirt. So it's a good learning curve for Tony to work with a veteran pitcher."
It has also been a success. In Liriano's first three starts with Sanchez, he allowed one run and 10 hits in 23 innings that also featured 25 strikeouts.
When Saturday night's start against the Giants did not go as well -- Liriano labored through four innings, allowing four runs and nine hits -- his catcher took it hard.
"We've developed this theory that I'm Liriano's personal catcher, but I don't think I've earned that yet," Sanchez said. "You've got to have the right outings to earn that title, and if the guy doesn't have an outing like he's supposed to, I take that personally. He and I have taken 10 steps forward, but [Saturday night] I feel like we took a step back.
"We'll just get back to the grind and take care of business, so next time we'll be back on the same page."
"Next time" will be Friday night at PNC Park vs. the St. Louis Cardinals.
Tom Singer is a reporter for MLB.com and writes an MLBlog Change for a Nickel. He can also be found on Twitter @Tom_Singer. This story was not subject to the approval of Major League Baseball or its clubs.