Sveum sticking with Rizzo in two-hole
Sveum sticking with Rizzo in two-hole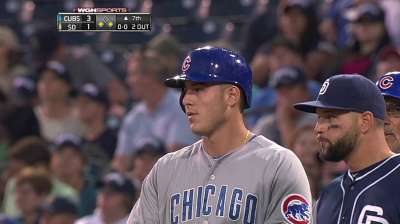 SAN DIEGO -- As of now, Anthony Rizzo will stay in the No. 2 spot in the Cubs' batting order. Manager Dale Sveum doesn't see any reason for a change.
"We've scored six, four, six and three [runs] -- that's a plethora for us," Sveum said of the Cubs' offense since the switch.
Is there really a correlation?
"No, but I like to think there is," Sveum said. "It's not where you want things to be, obviously."
That's because the Cubs project Rizzo as their No. 3 batter, which is where he has hit for 100 games this season. In four games at the No. 2 spot, he's 5-for-18 with four RBIs, including two home runs the first day he was inserted there.
"He had a big day [Wednesday], and the line drive two nights ago in the gap and I think the at-bats and the aggressiveness is better and the pitch selection," Sveum said of Rizzo's approach. "Where you hit in the lineup is irrelevant for the most part. Sometimes it does give you a little relaxation, where you don't have to worry about things. Everybody's different."
Part of the reason for the switch was because Rizzo has scuffled with runners in scoring position. He was batting .178 this season with runners in scoring position, with 39 RBIs.
Sveum doesn't feel Rizzo's approach has changed since Alfonso Soriano, who batted behind him, was traded. The Cubs manager feels pitchers attack a hitter's weaknesses.
"There are no fastball counts anymore," Sveum said. "You sit there and think, 'Oh, he should get a fastball here because Joe Blow is hitting behind him.' It doesn't happen any more. You'd rather throw a 3-2 slider no matter who's hitting behind him than let that guy hit a single or whatever. You're going to get pitched to your weaknesses no matter who's hitting behind you."
Carrie Muskat is a reporter for MLB.com. She writes a blog, Muskat Ramblings, and you can follow her on Twitter @CarrieMuskat. This story was not subject to the approval of Major League Baseball or its clubs.