Corbin falters against makeshift Phillies lineup
Corbin falters against makeshift Phillies lineup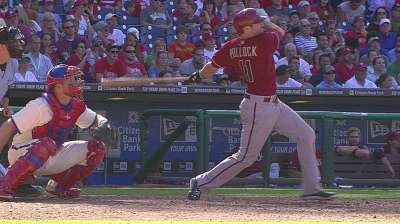 PHILADELPHIA -- The D-backs' bullpen was overworked. The team still hasn't settled on a starting pitcher for Tuesday. These things happen when you play a day game after an 18-inning night-into-morning game.
Still, manager Kirk Gibson was all smiles Sunday morning at Citizens Bank Park. After all, his team had won the marathon. Besides, as his wife Joanne had texted him afterward: "Whoosh. Freakin' crazy. Good thing you're a Gibson and don't need much sleep. Thank God for Corbin."
That would be Patrick Corbin, whose 2.45 ERA and 21 quality starts allowed a quiet confidence that everything was under control.
All together now: Baseball is a funny game.
Facing a lineup that included backup catcher Erik Kratz batting cleanup, John Mayberry playing right field in place of injured All-Star Domnic Brown (sore heel) and Kevin Frandsen subbing for Chase Utley at second base, Corbin gave up nine runs (eight earned) in 5 1/3 innings, and Arizona lost for the fourth time in its last five games, 9-5.
Corbin had allowed as many as four runs just four times all season. The Phillies scored four in the bottom of the first alone.
"We were putting a lot on Patrick's shoulders, and he didn't have his good stuff," a more somber Gibson said after the game. "He didn't have his slider. He hung one to [Cody] Asche in the first inning [for a two-run double], and then he kind of got away from that. He started throwing the ball inside and got behind. His pitch count was up there, so it didn't work out.
"He gave his heart. The best he could wasn't enough today."
Gibson said some thought was given to sending Corbin back to the team hotel as Saturday night's game began to drag into the early hours of Sunday morning, but that he couldn't be sure he wouldn't have to use the left-hander in relief.
The 24-year-old Corbin was asked if he got enough sleep.
"I don't think anybody did," he said. "Maybe just out of it a little bit. I didn't feel my best all day. Maybe that had something to do with it. It was just one of those things where nothing was really clicking today.
"I left a lot of pitches up. I wasn't really controlling anything. I had a couple walks early and hit a batter, and they got a couple hits on me. It was just one of those days. I didn't have my best stuff, and they took advantage of it, got to me early."
Corbin was acutely aware that his team was looking for him to fill some innings.
"I feel bad for not going deeper. I know the bullpen is a little tired. I was just trying to go as deep as I could, but it just wasn't my day," he said.
The eight earned runs he allowed was a career high. He had previously given up six twice, most recently September 27, 2012, at San Francisco.
The D-backs concluded their trip to Pittsburgh, Cincinnati and Philadelphia with a 4-6 record, especially disappointing because it started with winning two out of three against the Pirates. Gibson didn't sugarcoat the situation when somebody noted that it hadn't gone as well as he might have hoped.
"That's an understatement. It was a bad trip," he said bluntly.
The Phillies pitching was scrambled, too, of course. Which meant the D-backs faced Roy Halladay, making his first Major League start since undergoing shoulder surgery on May 15. He was originally scheduled to make his third rehab start for Double-A Reading on Sunday, but the plans changed when projected starter Tyler Cloyd ended up pitching five innings of relief Saturday.
Halladay is one of the best pitchers of his generation, but he hasn't been consistently dominant since 2011 as he's battled nagging injuries. Sunday his fastball sat consistently in the high 80s. But after Tony Campana opened the game with a triple to right, scoring on an infield out, the D-backs couldn't do much with him.
Halladay allowed just three more hits in his six innings. Only one of them left the infield. Arizona scratched out another run in the second on a single to shortstop by A.J. Pollock, a stolen base, and a sacrifice fly by Tuffy Gosewisch for his first Major League RBI.
"He's crafty. He threw all of his pitches. We had him in some trouble and couldn't capitalize on it. He did a good job. His experience took over for him," Gibson said.
If there was a turning point, it probably came in the top of the third. The D-backs scored once in the first and once in the second to cut the Phillies' lead to two when Matt Davidson launched a long fly ball to dead center with a runner on first and two away. But Roger Bernadina reached above the wall to reel the ball in and end the threat.
"That would have been a tie game at that time and maybe it's a different story," Gibson said.
Said Bernadina: "For a second I thought the ball was over my head. I turned around and kept going, but when I was close to the warning track, I jumped and I made a catch out of it."
Davidson, who was starting at third in place of Martin Prado (sore lower back), said he saw the play all the way.
"It happens and you've just got to keep on going. That's just kind of how it went," he said, noting that Bernadina also robbed Gosewisch with a diving catch in the seventh.
Arizona also played without second baseman Aaron Hill (mild groin strain).
Pollock's three-run homer off just-promoted reliever J.C. Ramirez in the eighth was too little, too late to make a difference.
That wasn't what Gibson expected Sunday morning. All together now: In baseball, you never know.
Paul Hagen is a reporter for MLB.com. This story was not subject to the approval of Major League Baseball or its clubs.