Halladay shows encouraging signs in return from DL
Halladay shows encouraging signs in return from DL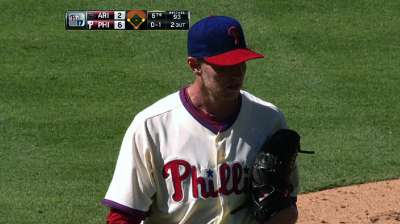 PHILADELPHIA -- Roy Halladay gave the Phillies something to think about Sunday afternoon at Citizens Bank Park.
He rejoined the rotation after missing more than three months recovering from right shoulder surgery. He allowed two runs, four hits, two walks and struck out two in six innings of a 9-5 victory against Arizona, giving the Phillies a second consecutive series victory for the first time since early July.
Wins are nice, but they are insignificant at the moment. The Phillies will not make the postseason this year. Instead, they are using these final few weeks to evaluate their personnel, and one of the most interesting players to evaluate is Halladay, who is a free agent following the season.
"I'm getting back to who I was," said Halladay, whose fastball sat in the 87-89 mph range. "I feel like each time out I'm progressing back to where I was. There are going to be changes, and you always change over your career. But I think my arm slot is back to where it used to be. The movement is back to where it used to be. I can be more consistent with the location. Just from talking to the doctors, the velocity is the last thing to come."
The 36-year-old has been one of the best pitchers of his generation, but the last two seasons have been a disappointment as he battled shoulder injuries and the natural fight against age. He was a combined 13-12 with a 5.24 ERA in 32 starts the previous two seasons, including a 2-4 mark with an 8.65 ERA in seven starts this season, before he had surgery in May.
But if Halladay shows some upside these final few weeks, the Phillies might want to bring him back. They have potential holes to fill in the rotation, especially after the deal for Cuban right-hander Miguel Alfredo Gonzalez seems to have fallen through. They currently have Cole Hamels and Cliff Lee atop the rotation next season. Kyle Kendrick and John Lannan are eligible for salary arbitration, and rookie Jonathan Pettibone showed promise this year, but the Phillies could use somebody like Halladay, even if he isn't the Cy Young Award winner of old.
"I think the results speak for themselves," catcher Erik Kratz said. "A lot of pitches were down in the zone."
Halladay recently made two rehab starts with the rookie-level Gulf Coast League Phillies and Class A Lakewood. He hardly dazzled. He allowed 13 hits, four earned runs, six walks and struck out eight in 12 innings, which is why the Phillies scheduled a third rehab start Sunday with Double-A Reading.
But Saturday's 18-inning loss to Arizona forced the Phillies to burn right-hander Tyler Cloyd, who had been scheduled to start the series finale. General manager Ruben Amaro Jr. woke up Halladay close to midnight in his hotel room in Reading, Pa., to ask if he would pitch in Philadelphia instead.
"The hotel phone was going off. My cell phone was going off," Halladay said. "Everything was ringing. I didn't know what was going on. I was out."
Halladay didn't protest much. He said yes.
He allowed a leadoff triple in the first inning to Tony Campana, which led to a run, and allowed another run in the second before he retired 14 of the final 17 batters he faced.
It could have been worse. Phillies center fielder Roger Bernadina saved a couple runs in the third, when he made a leaping catch at the wall in center field to prevent a two-run home run from Matt Davidson. Bernadina later made a spectacular diving catch in left-center field in the seventh.
"He's crafty," Arizona manager Kirk Gibson said of Halladay. "He threw all of his pitches. We had him in some trouble and couldn't capitalize on it. He did a good job. His experience took over for him. The big play was Bernadina on Davidson. That would have been a tie game at that time and maybe it's a different story."
The Phillies took a 4-1 lead in the first. Arizona left-hander Patrick Corbin loaded the bases with one out, when Darin Ruf singled to left to score Bernadina and tie the game. Cody Asche then doubled to right field to score Michael Young and Erik Kratz and make it 3-1, while Kevin Frandsen's fielder's choice scored Ruf for the Phillies' fourth run.
The Phillies took a 6-2 lead in the fourth, when Frandsen singled and John Mayberry hit a two-run home run to left field. They scored three more runs in the sixth, adding insurance as interim manager Ryne Sandberg improved to 6-4.
But this was a day to watch Halladay. Everybody connected with the Phillies said they noticed a difference, saw improvement or had reason to be encouraged, but it remains to be seen how effective Halladay will be in the future.
The next few weeks will offer a glimpse of that.
"I just want to win games and win a World Series," Halladay said, asked if he thought he could be a dominant pitcher again. "I'm not worried about anything else. I'm really not. You always have to look forward. You can't ever look back. I'm not trying to replicate anything I've done in the past. I'm trying to help us win and hopefully get a chance at some point to win a World Series."
Todd Zolecki is a reporter for MLB.com. This story was not subject to the approval of Major League Baseball or its clubs.