Schafer sees improvement at leadoff spot
Schafer sees improvement at leadoff spot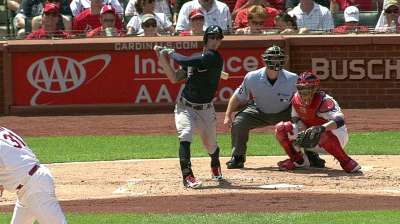 ST. LOUIS -- Jordan Schafer spent the past couple of weeks struggling to regain the successful form he displayed before being sidelined for more than a month with a stress fracture in his right foot. But with a two-hit performance in Sunday's 5-2 win over the Cardinals, he gave the Braves confidence he could make up for the absence of Jason Heyward from the top of their lineup.
Schafer began Sunday's game with a triple and added a second-inning RBI double that helped give Atlanta a 3-0 lead. The veteran outfielder entered this series finale having hit .088 (3-for-34) with a .162 on-base percentage in 38 plate appearances since coming off the disabled list Aug. 11. He did not reach base with a hit or a walk while manning the leadoff spot in the first three games of this four-game set against the Cardinals.
"It's just getting some of that timing back and getting that feel back," Schafer said. "It's getting close. I just need those at-bats, and I'll be fine. It's just getting back in there every day and getting into that groove."
Before sustaining the stress fracture while fouling a ball off his foot in Kansas City on June 27, Schafer was positioning himself for an everyday role courtesy of the production he provided at leadoff. In the 19 starts he made as the leadoff hitter before the injury, he hit .319 and compiled a .424 on-base percentage.
"I'm still not there yet," Schafer said. "But it's getting close. I'm starting to get some timing back. It's kind of me just having a calm, slow intensity, where I can slow everything down and still be intense at the plate. Once I can get that back, I know I'll be fine."
Manager Fredi Gonzalez has said he might use Andrelton Simmons as his leadoff hitter when the opposing team starts a left-handed pitcher. Simmons has hit .222 with a .259 on-base percentage in the 62 games he has manned the lineup's top spot.
Simmons' struggles led Gonzalez to replace him with Heyward, who hit .314 with a .414 on-base percentage in the 22 games he served as the leadoff hitter before sustaining a fractured jaw when he was hit with a Jon Niese pitch Wednesday at Citi Field. He is expected to be sidelined until at least late September.
Mark Bowman is a reporter for MLB.com. This story was not subject to the approval of Major League Baseball or its clubs.