Injuries dictate unusual Braves lineup in finale
Injuries dictate unusual Braves lineup in finale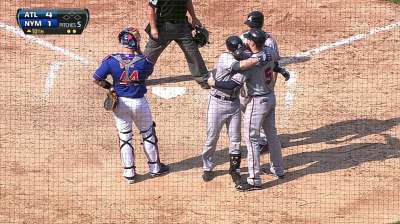 ST. LOUIS -- With Jason Heyward and Dan Uggla on the disabled list and Brian McCann needing to rest following a night game, the Braves had no choice but to post a lineup that would not resemble anything remotely close to what you would expect from the team with Major League Baseball's best record.
This lineup became even less imposing when Chris Johnson was scratched because of turf toe approximately 90 minutes before the Braves attempted to prevent the Cardinals from completing a four-game sweep \Sunday afternoon. Paul Janish was inserted to start in Johnson's place at third base.
Johnson sprained his left big toe when he stepped on St. Louis first baseman Allen Craig's heel and tripped over the first-base bag while recording an infield single in the fourth inning of Saturday night's 6-2 loss at Busch Stadium.
"I jammed it and bent it back," Johnson said. "Then I kept playing through the game. I took my shoe off, and it swelled up after the game. I came in today, and it was pretty swollen."
Johnson felt he could pinch-hit if necessary Sunday. After taking advantage of Monday's off-day, he is hoping to be back at third base for Tuesday night's series opener against the Indians.
"It's not a big deal," Johnson said. "Hopefully, it's just a one-day thing."
While hitting .257 (19-for-74) during his past 19 games, Johnson has lost his lead in the National League batting crown chase. Cardinals catcher Yadier Molina entered Sunday hitting an NL-best .336. Johnson ranks second with a .331 mark.
Justin Upton, Freddie Freeman and Andrelton Simmons were the only members of Sunday's lineup who had made more than 34 starts for Atlanta this year.
Mark Bowman is a reporter for MLB.com. This story was not subject to the approval of Major League Baseball or its clubs.