Smith recalled with Hochevar on paternity leave
Smith recalled with Hochevar on paternity leave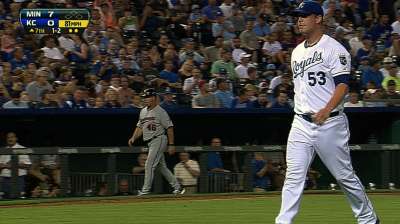 KANSAS CITY -- Left-handed reliever Will Smith is getting pretty used to the stretch of Interstate 29 that connects Omaha and Kansas City. After all, he's traveled that road 13 times this season.
Smith was recalled from Triple-A Omaha on Sunday morning when Luke Hochevar was placed on paternity leave. In six previous stints with the Royals, Smith made eight appearances, including one start. He is 1-1 with a 3.27 ERA in 22 innings.
"It's a nice luxury to have," manager Ned Yost said. "It's kind of not fair to him, he gets to come up, do well and go back down, but it's nice to have that comfort level knowing that when these things arise, you have someone to plug into the puzzle to help you out. I have confidence in Will and he has done a great job every time he's come up."
His seven calls match Louis Coleman's record from last season, but Smith said it's worth it every time.
"You're just excited to be back," Smith said. "You can't complain about coming back to the big leagues, it doesn't matter how many times it is. You're ready to get in the car and go."
Kathleen Gier is an associate reporter for MLB.com. This story was not subject to the approval of Major League Baseball or its clubs.