Gordon takes AL lead with 11th outfield assist
Gordon takes AL lead with 11th outfield assist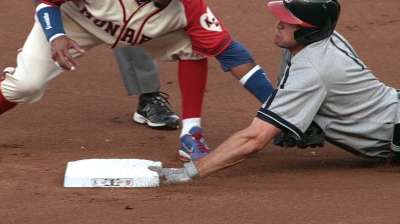 KANSAS CITY -- Alex Gordon's numbers may not show it, but manager Ned Yost said he thinks his All-Star left fielder is improving on defense.
In the first inning Saturday, Gordon fielded a drive by Ryan Zimmerman down the left-field line and threw him out at second for his 11th outfield assist of the season. He also took over the American League lead.
His numbers are down a little bit since he led the league with 20 assists in 2011 and finished with 17 last season, but Yost said that's because opponents simply have more respect for his arm, and the manager has no doubt that Gordon can earn a third straight Gold Glove Award.
"Absolutely, I think he will win it," Yost said. "I think he'll win a bunch of them."
The outfield group as a whole has compiled 132 outfield assists since the 2011 season, which is 36 more than any other Major League team in that span. This season, the outfielders have 30 assists, with Lorenzo Cain coming in second with seven, followed by David Lough with five, Jarrod Dyson and ex-Royal Jeff Francoeur each with three and Justin Maxwell with one.
"If we're not hitting the ball very well we have to play great defense," Gordon said. "It's just part of our job to go out there and help the pitcher in any way that we can. I know that they love it when there's a hit on the field and you throw a guy out. We take great pride in it and like helping out the pitchers."
Kathleen Gier is an associate reporter for MLB.com. This story was not subject to the approval of Major League Baseball or its clubs.