Clark nearly plays hero in first career start
Clark nearly plays hero in first career start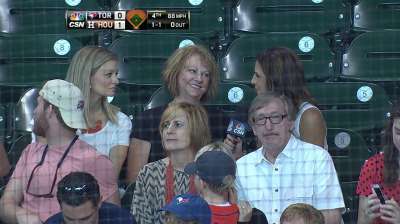 HOUSTON -- So what that he didn't come through with the game-winning hit in the bottom of the ninth inning in Sunday's 2-1 loss to the Blue Jays. Catcher Cody Clark's first career start in the Major Leagues was nothing short of the thrill of a lifetime.
Clark, who was called up Friday following 11 years in the Minors, went 0-for-4, but he threw out a pair of runners trying to steal second and helped starter Dallas Keuchel throw seven scoreless innings.
What made the day special for Clark, though, was that his grandfather, C.L. Guinn, was in the stands to watch him play. It was a surprise trip from Arkansas arranged by his parents, who were among 28 friends and family members in the stands. Clark's grandmother, Wilma, died on March 8.
"It was amazing. My grandfather is 91 years old and he showed up today," Clark said. "It was amazing. I lost my grandma during Spring Training and it's been tough on him, but it just meant so much he was here today."
Clark nearly had his first Major League hit when he lined out to a diving Jose Reyes at shortstop in the fifth inning, but he threw out Reyes trying to steal in the eighth inning.
"He made a nice play and got his glove on it," Clark said of his game-ending groundout against Casey Janssen.
Clark had a chance to play hero in the ninth inning when he came to the plate with the bases loaded and two outs, but he was thrown out after hitting a chopper that hit off the pitcher's hand and was handled by the second baseman.
That did little to ruin his day.
"I was really nervous coming to the field today, but once we got going I kind of settled down a little bit and tried to take it pitch by pitch," Clark said.
Clark's debut came in his 11th professional season. He has spent time with the Rangers (2003-05), Braves (2006) and Royals (2007-12) organizations before being signed by the Astros prior to this season. He spent most of the year at Triple-A, hitting a combined .212 with one homer and 13 RBIs between Oklahoma City and Double-A Corpus Christi.
Brian McTaggart is a reporter for MLB.com and writes an MLBlog, Tag's Lines. Follow @brianmctaggart on Twitter. This story was not subject to the approval of Major League Baseball or its clubs.