Fast start against Lynn hurts Cards in finale
Fast start against Lynn hurts Cards in finale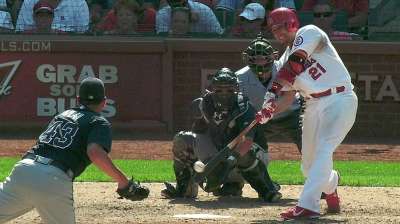 ST. LOUIS -- Lance Lynn began this season by going 10-1, maintaining his designation as baseball's winningest pitcher dating back to 2012. But the going has not been so easy for Lynn lately.
Much of the healthy dose of run support that often bailed him out of tough outings has dried up, and the right-hander has finished on the winning end of just three games in his last 12 starts. He allowed four or more earned runs seven times in that span, including Sunday, when he was bested by Atlanta's Mike Minor, falling short of his 14th victory for a fourth straight outing in a 5-2 loss to the Braves before 44,009 at Busch Stadium.
"You can't harp on the negative, especially this time of year," Lynn said. "Certain guys are going to get you at times. You can't worry about the past. You have to worry about the future. Today, as the game went on, I started to find a rhythm again that I hadn't felt in a while. Hopefully that's something that you build off of."
The Cardinals achieved a level of revenge against the Braves by taking three in a row this weekend, but they could not deliver the finishing blow Sunday. The Braves one-upped them in the season series, winning four games to three, which could have home-field advantage implications in October.
"You don't want to get swept, especially by a team that will be a playoff team you have the potential of seeing," Braves outfielder Jordan Schafer said. "You don't want them to have that confidence going into the playoffs. It was a big win for us. We just need to get back to playing good baseball, and we'll be fine."
Despite the loss, the Cardinals have still won 10 of their last 14 games.
"We were looking to get the win and couldn't get it, but it was a really good series for us, winning three games out of four against a tough team," said first baseman Allen Craig, who recorded his 44th multi-hit game of the year with three singles. "They took it to us at their place, and we needed to come out and do what we did. We did a good job."
Schafer jumped Lynn for a triple to open the game, and Elliot Johnson singled him home. Atlanta got after Lynn again in the second with three singles and a double as the Braves aggressively built a quick 3-0 lead. Aided by Yadier Molina's sliding catch in foul territory, Lynn limited the damage in the second to two runs. Molina erased another of Lynn's baserunners in the sixth, when he caught Gerald Laird stealing second, securing the third out.
The right-hander settled in, facing the minimum for four frames, but Andrelton Simmons took him deep for a solo shot in the seventh.
"He came out with an idea of establishing his fastball, but they were ambushing it," manager Mike Matheny said. "He just didn't get a good feel for his slower pitches. He had a cutter going OK, but he needed something to slow them down a little bit. By the time he established that, it seemed to be different at-bats."
Lynn could take solace in the fact that he completed seven innings, marking the first time since July 24-26 that Cardinals' starters went that deep in consecutive games.
"Hopefully, for me, it's a building [block] going down the stretch," Lynn said. "I've got some starts coming up where I need to be really good, and I plan on being really good. Besides that one mistake in the seventh, those last four or five innings are what I have to be for the rest of the year."
Meanwhile, Minor quieted a St. Louis offense that had put up six or more runs in five of the last seven games. Although the Cardinals have improved against lefties -- an issue that plagued the club earlier this season -- the left-handed Minor got the best of them Sunday, effectively limiting them to one run on six hits and a walk over seven innings. With the loss, the Cardinals are now 15-20 versus left-handed starters this season.
"I felt like early in the season it was a little slow against lefties, but I think over time, things even out," Craig said. "Hopefully we can start a better trend. Obviously today wasn't great, but I think we can do a better job for sure."
The Cardinals finally got past Minor in the sixth, when Matt Carpenter led off with a double, becoming just the second Cardinals baserunner to advance to scoring position all day, and advanced to third on Carlos Beltran's fly ball to center field. Carpenter then scored on a groundout from Matt Holliday. The Cardinals tagged on one more in the eighth against Atlanta reliever Luis Avilan but could not cover the remaining deficit.
"I don't count our offense out of any game," Matheny said. "We had a couple opportunities. … But [Minor] was sharp today. He didn't give us a lot of mistakes to handle and got himself out of any jams he got himself into."
The Cardinals also had a chance to tie for the best record in baseball, but with Atlanta now in the rearview mirror, St. Louis will head into a 13-game stretch against Pittsburgh and Cincinnati in a tight National League Central race that remained tied at the top after Sunday.
"We're in a race for a division, there's no time to take off and worry about [the coming two-week stretch]," Craig said. "You got to stay focused with your approach and what's been successful all year. We've been doing a pretty good job, and I feel like we got things rolling in the right direction."
Chad Thornburg is an associate reporter for MLB.com. This story was not subject to the approval of Major League Baseball or its clubs.