Miller's trial with cutter deemed success
Miller's trial with cutter deemed success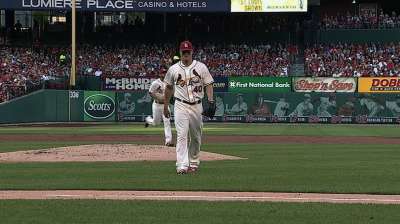 ST. LOUIS -- Already having a season worthy of Rookie of the Year consideration, Shelby Miller believed that adding another pitch to his repertoire would help him take the next step forward. The experimentation was minimal and the implementation almost immediate. But as Miller found Saturday night, there was plenty incentive to keep throwing that cut fastball.
Wanting to find a way to keep hitters from sitting on his high fastball, Miller thought the addition of a cutter could be a weapon. He had seen how effectively Adam Wainwright and Lance Lynn used the pitch, and that prompted Miller to throw a few in his start last Monday.
After those worked OK, Miller featured the pitch about 15 times Saturday, with even more success.
"I'm not going to change the way I pitch, but I think it's something to have," Miller said. "Just getting in the hitters' head and let them know you have a little something extra there. I think that's going to be a real good pitch for me in the future. If it keeps progressing forward from where it is, it's going to be one of my better pitches. But right now, we're just trying to mix it up more."
Miller threw the cut fastball with an average velocity of 91 mph, about 3 mph slower than his average fastball velocity. The pitch also has more movement than a traditional fastball.
"To come up with something completely new [in-season] is very unique," Cardinals manager Mike Matheny said. "He had a couple yesterday that it looked like it cut but was so hard that I ended up asking [catcher] Yadi [Molina about it] in the middle of the game. He said, 'Yeah, that's a cutter.' It was really impressive. For a guy who has been getting a feel for his breaking ball and who has obviously been living on his fastball, to throw a hard, 90-plus [mph] cutter in there with a hard-rising fastball, that's a great mix."
Neither Matheny nor Miller thought it was coincidence, either, that on a night when Miller threw the cutter so many times, he was more efficient than he had been in a while. Miller threw 101 pitches and covered seven innings for the first time since the first of June.
"Yadi called it a lot," Miller said. "Obviously, I'm going to go with what he calls. I have all the faith in the world in him. I know it's not going to be that good every single time I go out, but [Saturday] it was just on. If I can have that extra pitch in the mix, I think it's going to take me to the next step of being that much better. There's always room to improve on something."
Jenifer Langosch is a reporter for MLB.com. Read her blog, By Gosh, It's Langosch, and follow her on Twitter @LangoschMLB. This story was not subject to the approval of Major League Baseball or its clubs.