Cecil to work in shorter stints moving forward
Cecil to work in shorter stints moving forward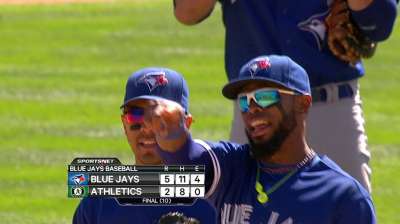 HOUSTON -- The Blue Jays are expected to monitor the workload of left-hander Brett Cecil through the remainder of the season, but it's not due to an injury.
Toronto manager John Gibbons recently said the club will begin using Cecil in shorter stints. He'll either be used as a lefty specialist or pitch one full inning at most, but the extended outings out of the bullpen are over for this season.
The main reason is that the Blue Jays want to take a cautious approach with Cecil after he transitioned to the bullpen this season following several years in the starting rotation. Cecil, for his part, appeared aware of the situation, but said his arm feels as good as could be expected this late in the season.
"I feel fine. I pitched a lot and it's only been probably two or three times that I've actually asked to have off because of normal soreness, but something that you just need a day of rest," Cecil said. "It's only happened two or three times.
"I feel like if I can get a day of rest here, then I can be more valuable to pitch back-to-back days instead of throwing 20 pitches and then going back out the next and throwing 10, and I'll need two days off after that. I have no problem with it."
Cecil's first year in the bullpen has gone better than anyone could have predicted. He went from barely making the team out of Spring Training to being selected to the American League All-Star team. The Maryland native now has a clearly defined role in late-inning relief and is expected to be an integral part of the club's bullpen for years to come.
The 27-year-old Cecil entered play on Sunday with a 5-1 record and 2.73 ERA in 59 1/3 innings. He has come a long way since the beginning of April and there's no question he picked up a few tricks along the way.
"I'm learning my first full year in the bullpen, it's different the way you look at hitters, it's different the way you warm up, it's different the way you feel the next day," Cecil said. "In April and May, I told Casey [Janssen], if I threw two innings I wanted to throw three innings the next day because I felt so good.
"[Darren] Oliver has been a bullpen guy for like 10 years probably, and he was the first one to say something to me, 'Hey man, save your bullets because you're going to need them in August and September.' I said the other day, 'Sure enough, I needed to save some bullets.' But, I'm getting the hang of it, so hopefully next year is a little bit different."
Gregor Chisholm is a reporter for MLB.com. Read his blog, North of the Border, and follow him on Twitter @gregorMLB. This story was not subject to the approval of Major League Baseball or its clubs.