Aoki gets extra rest on Sunday to nurse knee
Aoki gets extra rest on Sunday to nurse knee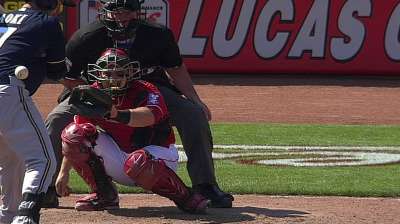 CINCINNATI -- Norichika Aoki didn't ask for a day off on Sunday, but manager Ron Roenicke held him out of the starting lineup, anyway. The Brewers right fielder, who missed Wednesday's game with patellar tendinitis in his right knee, ended up pinch-hitting in the ninth inning of the Brewers' 3-1 win and was hit by a pitch.
"He's fine," Roenicke said before the game. "He could play today. I think it's maybe trying to get him completely healthy. We probably won't be able to, but this will help again."
With the Brewers out of action Monday before taking on the Pirates in Pittsburgh on Tuesday, Roenicke said he liked being able to give Aoki consecutive days off. Milwaukee also didn't play Thursday, giving Aoki four days of rest in less than a week.
Before the series opener against the Reds on Friday, Aoki said his knee was feeling better. He went out and proved it by going 3-for-4 and reaching base a total of five times. On Saturday, he went 1-for-4 before sitting out Sunday's finale.
"He's been fine playing the last couple days," Roenicke said. "With [center fielder Carlos Gomez] banged up and him a little bit, [too], I'd like to get him closer to 100 percent."
Jeremy Warnemuende is an associate reporter for MLB.com. This story was not subject to the approval of Major League Baseball or its clubs.