Balfour sharp as ever following five days of rest
Balfour sharp as ever following five days of rest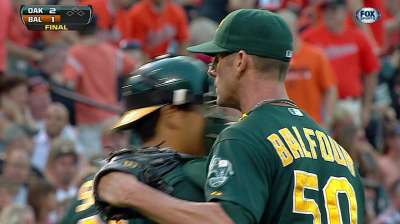 BALTIMORE -- Oakland manager Bob Melvin was impressed with Grant Balfour's command in closing out the ninth inning of Saturday's 2-1 victory over Baltimore.
Balfour entered in the ninth inning and earned his 32nd save on just 12 pitches by retiring Nick Markakis, J.J. Hardy and Ryan Flaherty in order. Melvin said some extra days of rest might have been beneficial to Balfour.
"He's been terrific all year," Melvin said. "That might have been as good a stuff we've seen him have all year. He's had five days off. He's throwing 96 mph and using his fastball a lot, which means he felt like he had pretty good stuff."
Balfour said the extra rest did help, but it did not change his focus.
"The extra rest did help a little, but I have the same mentality," Balfour said. "Obviously, having the rest your arm is going to feel good. It always helps."
After the Baltimore series, the A's will continue a tough stretch over the next three weeks, including series with the Tigers and Rays, each of whom are in the playoff hunt. Oakland then begins a huge three-game set at home against Texas that could help decide the American League West.
Balfour is not feeling any extra pressure. He said the key is to close out the season strong,
"The next 30 games are huge," Balfour said. "People talk about this road trip, we're playing Baltimore, we're playing Detroit. To me, that's all the hype of everyone else outside. Each team has a bat in their hand and all of them can do damage. I don't put the pressure on myself. They say it's going to be a tough road trip. I say so what, it's just a baseball game. Let's go out and win it."
Todd Karpovich is a contributor to MLB.com. This story was not subject to the approval of Major League Baseball or its clubs.