Parker pitching like an ace, extends impressive streak
Parker pitching like an ace, extends impressive streak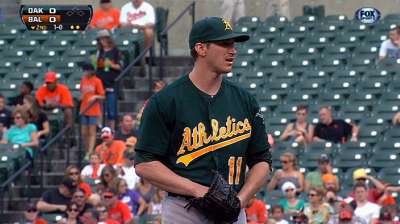 BALTIMORE -- Oakland right-hander Jarrod Parker has become the de facto ace at this point of the season, especially with the injury to Bartolo Colon.
On Saturday, he outdueled Orioles ace Chris Tillman in the A's 2-1 victory. Parker has won eight consecutive decisions and is unbeaten in 16 starts, one shy of the club record held by Catfish Hunter.
Parker kept the A's in the game with a career high 117 pitches until Coco Crisp hit the go-ahead home run in the ninth, snapping a three-game losing streak. Parker improved to 10-6 with a 3.58 ERA.
"You're in a 1-1 game and you know you made one mistake and that mistake could be the difference in a loss or a no-decision," Parker said. "If you're able to limit it to one, you know you did a pretty good job. I want to go out there and give up no runs."
Orioles center fielder Adam Jones said Parker kept Baltimore off-balance for most of the night.
"He works in and out," Jones said. "He has a good changeup. Nothing was really hit hard today. You got to tip your cap to both pitchers. I think that was a well-pitched ball game on both sides. Obviously a 2-1 game means a well-pitched ballgame on both sides."
Orioles manager Buck Showalter and A's skipper Bob Melvin said it was fun to watch an old-fashioned pitchers' duel between Parker and Tillman.
"Good thing there are pitch counts for both those guys or that game might have gone on for awhile," Melvin said. "Both those guys were dominant today. It was good to reward Jarrod because he pitched as well as you can pitch."
Colon, who is 14-5 with a 2.97 ERA, is expected to throw a bullpen session Monday in Detroit as he recovers from a groin strain.
Todd Karpovich is a contributor to MLB.com. This story was not subject to the approval of Major League Baseball or its clubs.