Marlins weighing options for September callups
Marlins weighing options for September callups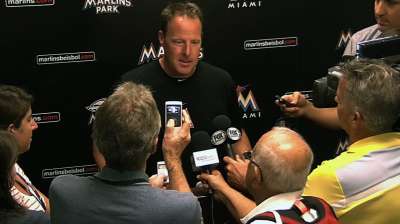 MIAMI -- With rosters expanding to a maximum of 40 players in a week, the Marlins continue to mull their options in the Minor Leagues.
"We're still working on that," manager Mike Redmond said. "We've talked about the guys we're going to bring up and trying to finalize the list of guys. We'll be bringing up probably at least a couple of guys that can start. Obviously Jose [Fernandez's] not going to pitch the whole months so we'll need at least one more starter there."
Fernandez is scheduled to reach his innings limit in early September.
Some possible names include right-hander Sam Dyson and left-hander Brad Hand, both of whom are already on the 40-man roster. Left-hander Brian Flynn is another possibility.
Dyson, 25, has spent time in three different Minor League levels this year, compiling a 4-10 record and 2.42 ERA in 21 starts (20 games). He was claimed off waivers in late January. Dyson made his Major League debut with the Blue Jays on July 5, 2012, for a brief two-game stint.
Hand, 23, went 1-8 with a 4.20 ERA in 12 starts in 2011. Since then, he has made just two spot appearances over the past two years. He is 3-5 with a 3.63 ERA at Triple-A New Orleans.
Flynn, 23, is 6-10 with a 2.86 ERA over 22 starts for the Zephyrs. The 6-7, 240-pounder was an 18th-round selection by the Red Sox in the 2008 First-Year Player Draft.
Wade LeBlanc was the only southpaw starter for the Marlins this year, making seven starts earlier in the season.
"As we get in the next few days, we'll finalize that list and put that together," Redmond said.
Christina De Nicola is a contributor to MLB.com. This story was not subject to the approval of Major League Baseball or its clubs.