Dynamic Ramos a dependable weapon in bullpen
Dynamic Ramos a dependable weapon in bullpen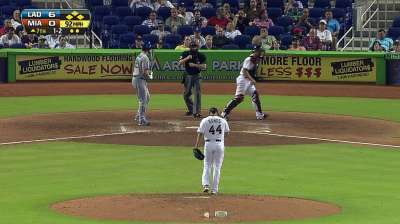 MIAMI -- Marlins right-hander A.J. Ramos always wanted to be a starter or late-inning pitcher growing up.
"I always worked on my stuff so I could be that, and I love the pressure of pitching a game where it's all on my shoulders," Ramos said. "I'm a guy pitching on adrenaline. It's easier [for my stuff] to come out in those situations."
In his perfect eighth inning during Saturday night's 3-0 victory, Ramos needed just nine pitches to sit down the Rockies. Compare that to his outing on Thursday, when it took 28 pitches -- 13 strikes -- for him to dispose of the Dodgers in a scoreless seventh. Ramos walked three batters and struck out another two.
Manager Mike Redmond hasn't shied away from using the righty in a variety of spots, including the sixth, ninth and even 12th inning. Ramos, who said he is locked in from the fourth inning, has the ability to shut down opponents with his swing-and-miss stuff.
Entering Sunday's game, the 26-year-old has tallied 71 strikeouts in 54 appearances, the second-highest total among Major League rookie relievers behind the Cardinals' Trevor Rosenthal (86).
"I like his stuff," Redmond said. "I think he's a guy who's proven he can pitch really in any situation. We've used him in a lot of different roles. We've used him early. We've used him late, multiple innings. Ahead, close games. He's proven that he can pitch, and he's got the demeanor and ability to handle any situation. I would have no problem throwing him in the eighth inning or any situation."
Christina De Nicola is a contributor to MLB.com. This story was not subject to the approval of Major League Baseball or its clubs.