Washington, teammates stand by struggling Scheppers
Washington, teammates stand by struggling Scheppers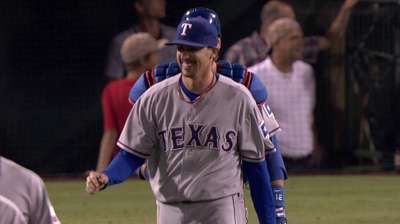 CHICAGO -- The Rangers aren't at all concerned about right-handed reliever Tanner Scheppers, who surrendered Josh Phegley's walk-off single in Saturday night's 3-2 loss to the White Sox at U.S. Cellular Field.
Rangers manager Ron Washington and catcher A.J. Pierzynski both backed the righty -- a key cog in the Rangers bullpen this season -- after the game, and Washington did so again Sunday morning before the teams' series finale.
"He just didn't execute. It's that simple," Washington said.
One thing Washington said the 26-year-old needs to improve on, however, is his breaking ball.
Although Scheppers relies heavily on his fastball -- which he throws 82 percent of the time (sixth-most among Major League relievers), according to fangraphs.com -- it is relatively flat with little movement. So even though it averages 96.1 mph and is tied for the ninth-fastest average fastball velocity in the Majors -- both according to fangraphs.com -- batters know what is coming and can react.
But if Scheppers can hone his breaking ball and consistently get it over even a handful of times in an inning, it puts at least the thought in the back of hitters' heads.
"If he shows me I can get the breaking ball over, then that will put a doubt in their mind," Washington said. "But it's all about executing the fastball, too."
And that, more than anything, has led to Scheppers' recent struggles, as he has blown a save and taken a loss in his last two appearances.
"He's never been a strikeout guy, so there's going to be contact," Washington said. "They're making contact and they're putting the ball in play and they're finding holes. He's just got to execute pitches better."
Cash Kruth is a reporter for MLB.com. Follow him on Twitter at @cashkruth. This story was not subject to the approval of Major League Baseball or its clubs.