Martin hopes to return as soon as Monday
Martin hopes to return as soon as Monday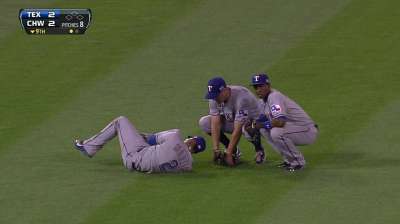 CHICAGO -- Leonys Martin was out of the lineup for the Rangers' series finale Sunday against the White Sox, but Martin and the Rangers are hopeful the center fielder will return to the field Monday night in Seattle.
Martin sprained his right ankle in Saturday's 3-2 loss when he and left fielder David Murphy collided in shallow left-center field while going for a fly ball off the bat of Paul Konerko.
Martin was helped off the field and received X-rays, which were negative, and the 25-year-old was moving around the clubhouse fine Sunday morning.
"I'm going to get all the treatment that I can today, and I want to get ready for tomorrow," Martin said.
That was also the expectation of Rangers manager Ron Washington, though the play -- and Martin's reaction -- looked bad.
Neither Martin, shaded toward right-center, nor Murphy initially heard the other call for the ball, which Murphy caught. Murphy said he heard Martin just as the ball was falling into his glove, but said it was too late to back away. Martin, focused on the ball, ran into Murphy, flipped sideways and twisted his ankle while falling to the ground, where he rolled around in pain until he was attended to.
Said Martin: "When I collided, I hurt so badly I thought I broke something."
It turned out to be nothing more than a sprain for the youngster, who is putting together a solid year in his first full Major League season. Martin is hitting .271/.328/.389 with six home runs, five triples and 29 stolen bases and has progressively improved, leading Washington to dub Martin the club's most improved player since Spring Training.
"He's come a long ways. But he's still got a long ways to go," Washington said. "It'll probably be another three years before you see his full potential. In his whole career he's never played controlled baseball; he's played out of control."
That's beginning to turn around as of late, as Martin has not only played better, but smarter.
"He's doing a lot of the right things," Washington said. "It took a while. He's getting better. From February to now? Jesus. All the issues we had with him in April and May and June, he's come a long ways."
Cash Kruth is a reporter for MLB.com. Follow him on Twitter at @cashkruth. This story was not subject to the approval of Major League Baseball or its clubs.