O's hammer A's to pull close in Wild Card race
O's hammer A's to pull close in Wild Card race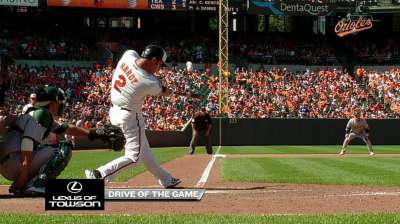 BALTIMORE -- The Orioles have been well-known for their power, a big reason why homers have served as their calling card. They banged out three more in Sunday afternoon's series finale with the A's.
Those home runs from J.J. Hardy, Nick Markakis and Nate McLouth gave Orioles more insurance in a game they'd already wrapped up. But some aggressive baserunning helped the O's post five runs in the first two innings and take command early en route to a 10-3 victory over the A's at Camden Yards.
With the victory, the Orioles (70-59) took two of three with Oakland and pulled to within two games of the A's (72-57) for the second American League Wild Card spot. The O's remain a half-game back of the Indians in that race.
The Orioles got six hits in the first two innings and kept going for the extra base, challenging the Oakland outfielders. They moved up two runners on one fly ball that set up two runs in the second, a big reason Baltimore held a 5-1 lead after two innings.
"Those guys really got after it early; a lot of aggressive baserunning," Orioles manager Buck Showalter said. "I think we picked up like 270 feet just running the bases well. We ran the bases real well today and took advantage of what might be there for us. That was key."
The Orioles also added timely hitting with runners in scoring position, something they've not done well in recent weeks. They finished 3-for-7 overall, and all of those hits came in the first two innings.
They also did a better job of not leaving runners at third. The O's hit three sacrifice flies -- two from Manny Machado.
"I think maybe if there is something you can criticize about us, we've maybe struggled at times with runners at third base and less than two outs getting that guy in," McLouth said. "Today, to have three sac flies, they may not look pretty, but they are effective and they are very important."
The first inning saw Machado race from first to third on a Chris Davis single and score on an Adam Jones single. Davis went to third on Jones' hit and scored on a Matt Wieters sacrifice fly for a 2-1 lead.
Brian Roberts singled to left to give the Orioles a 3-1 lead in the second. McLouth then flew to center, but Ryan Flaherty and Roberts moved up to third and second, respectively, a move that set up two runs. Machado (sacrifice fly) and Davis (single) each drove in a run for the 5-1 lead.
Machado's second sacrifice fly came in the fourth. It gave Baltimore a 6-1 lead and ended the day of Oakland starter Sonny Gray (1-2) after just 3 1/3 innings.
"I felt good," Gray said. "My stuff has been better. I just didn't make a lot of pitches that I needed to. They weren't really hitting the ball that hard, but they were finding holes."
Baltimore starter Scott Feldman (4-3) got the win, but it wasn't an easy day. He needed 102 pitches to get through five innings. The right-hander allowed one run on three hits and struck out six, but also walked four, which drove up his pitch count. Plus, Feldman hit a batter and balked once.
After Feldman left, Hardy's solo homer in the sixth capped a 3-for-4 day with three runs scored. The Orioles held a 7-3 lead when Markakis homered to right off Pat Neshek to start the eighth, and McLouth added a two-run shot later in the inning.
Markakis went 2-for-4 with one RBI. His double earlier in the game was his first extra-base hit over a 31-game stretch going back to July 19. The home run also snapped a long drought; his last round-tripper came June 24.
"I'm just glad I hit the ball hard," Markakis said. "Wherever it goes, sometimes you have no control over it. I just want to go up there, good approaches, hit the ball hard and wherever it goes, it goes."
In addition to Markakis, the trio of McLouth, Machado and Davis finished with two hits apiece. McLouth and Marchado each drove in two runs while six others knocked in one run. The Orioles are battling for a playoff spot and put everything together in this game -- and they'll need to keep doing it.
"From now on, we're going to be playing top-of-the-line teams," Machado said. "It's going to be coming down to teams we're fighting for a playoff spot. To swing the bats well and get runs in key situations, it's just huge for us."
Jeff Seidel is a contributor to MLB.com. This story was not subject to the approval of Major League Baseball or its clubs.