Blue Jays reward Buehrle with ninth-inning rally
Blue Jays reward Buehrle with ninth-inning rally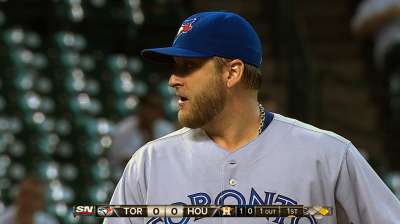 HOUSTON -- The Blue Jays' disappointing road trip through Tampa Bay, New York and Houston has mercifully come to an end, but they can at least take some solace in the fact that they finished on a winning note.
Toronto was in serious danger of having its losing streak extended to a season-high eight games, but an unorthodox ninth-inning rally helped salvage the final game.
The Blue Jays took advantage of an erratic Chia-Jen Lo by scoring two runs in the ninth to avoid a sweep at the hands of the Astros with a 2-1 victory on Sunday afternoon at Minute Maid Park.
"They've been hard to come by," Blue Jays manager John Gibbons said of the win. "Realistically, we were in so many games on this road trip, all of them except the last two here, but we came up short.
"So, that was eating at you. And then, of course, it's a losing streak, and to win the final one here, that always feels good. It doesn't make things any better where we're at right now, but it's something we needed."
Toronto's lengthy trip came to an end with a 2-8 record, and now the club travels home to face the Yankees in a three-game series. The three road series could have had a much different result with six of the games being decided by two runs or fewer, but with a struggling offense, the Blue Jays were unable to come away with much success.
For a long time on Sunday afternoon, it appeared as though Toronto was headed for a similar fate in Houston. The Blue Jays were held scoreless through eight innings and it wasn't until Lo lost all command of the strike zone that their fortunes started to change.
The rally started with a leadoff walk to Brett Lawrie, which was then followed by a single to center by Adam Lind. That turned out to be the only hit of the inning, but it didn't matter as Lo continued to struggle.
Toronto was even prepared to give up an out when Gibbons decided to send Munenori Kawasaki to the plate as a pinch-hitter with runners on first and second. Kawasaki's goal was simply to lay down a sacrifice bunt, but Lo was wild and walked the light-hitting shortstop on five pitches.
A lot of players in that situation would have tried to force the bunt, but Kawasaki remained patient. The at-bat proved to be the turning point of the inning as the Blue Jays loaded the bases with nobody out to set the table for a comeback.
"You're not going to find a better bunter around," Gibbons said. "Those guys from Japan, they're fundamentally sound, that's what they do, they don't mess things up. He has a great idea of the strike zone ... that guy throws strikes, but he couldn't [today] and that set that whole thing up."
Lo then proceeded to walk outfielder Moises Sierra, which tied the game at 1. Ryan Goins later followed with an RBI groundout as the Astros opted to keep the infield back and essentially gave the game to Toronto. It was Goins' first career RBI.
"We really did like our chances," Astros manager Bo Porter said. "Looking at the way it stacked up, we had the guys in there that we wanted. Lo just lost his command. He lost his command and it ended up really hurting us with his inability to throw strikes there in the ninth."
The fact that Houston giftwrapped the ninth inning meant Mark Buehrle finally secured his 10th win of the season with another solid outing. Buehrle has now reached the 10-win plateau in each of the past 13 seasons, which is a testament not only to his effectiveness on the mound, but also his durability. Buehrle tied CC Sabathia for the longest current stretch of 10-win seasons.
Buehrle was his typical self Sunday, working quickly and efficiently en route to another quality start. His only real difficulty came in the second inning when he loaded the bases on a walk and two singles before the only Astros run came around to score on a double play off the bat of Jake Elmore.
The 34-year-old Buehrle's remarkable turnaround since mid-May continues to improve with each start he makes. The native of St. Louis is 9-5 with a 3.16 ERA since May 11 and an ERA which once sat at 7.02 is now a respectable 4.08. Buehrle hasn't lost since July 20 in Tampa Bay.
"It's [satisfying], but at the same time, I'd rather forgo some of the personal stuff to be in a better position than we're at right now," said Buehrle, who pitched eight innings of one-run ball.
"Right now, I feel like I'm having a decent season, but I still have six or seven starts left, so I have to go out there and finish strong and try to get as many wins as I can."
Toronto almost coughed up the lead in the bottom of the ninth when Casey Janssen recorded two quick outs, but proceeded to load the bases and put the winning run in scoring position. The veteran right-hander survived by getting Cody Clark to ground out to second base and end the game.
It wasn't necessarily pretty, but the performance was enough to snap Toronto's prolonged losing streak. A lack of offense was the main reason behind the struggles as the Blue Jays averaged just 3.3 runs per game on the trip while scoring two runs or fewer four times.
That was the case again early on Sunday afternooon, as left-hander Dallas Keuchel surrendered just four singles while walking three batters and striking out two over seven strong innings.
The ninth-inning rally reversed the club's fortunes and made sure that the Blue Jays wouldn't set a new high this season with eight consecutive losses.
"It's good to get a win," said Janssen, who recorded his 23rd save of the season. "It was a pretty poor road trip out of us. Hopefully, it puts a smile on our face for a few minutes and we'll get back to work and get ready for the Yankees tomorrow."
Gregor Chisholm is a reporter for MLB.com. Read his blog, North of the Border, and follow him on Twitter @gregorMLB. This story was not subject to the approval of Major League Baseball or its clubs.