Prado delivers on promise to special-needs fan
Prado delivers on promise to special-needs fan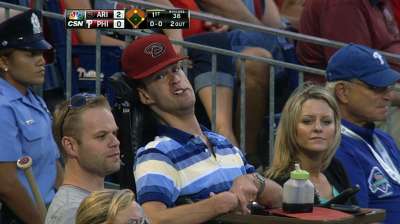 PHILADELPHIA -- His first name is Josh. D-backs third baseman Martin Prado doesn't know his last name, only that he's a special-needs Phillies fan whom he became acquainted with five or six years ago, when Prado was still with the Braves.
They talk almost every time Prado comes to Philadelphia. Saturday night, though, was different. After presenting Josh with a bat, he said he would hit a home run, then point to him afterward.
"I don't know why," Prado said. "I was just talking to him, and it just came to my mind. I just said it. At that moment, it just felt good to tell him that."
Sure enough, with two out in the first inning, Prado launched a two-run homer off Phillies rookie starter Ethan Martin. And as he rounded the bases, he pointed to Josh and his family sitting behind third base.
"That's just one of the times that shows you that words can be powerful. I'm glad that it made his day," Prado said. "He's a special kid. I told him before the game, 'Hey, Josh, where are you going to sit?' And he told me where his family was going to be. So I said, 'I promise you I'm going to hit a homer and I'm going to point at you.' It was a good feeling. Bringing that kind of moment for him and a lot of people, that's what we're here for."
The two met through former Braves outfielder Jeff Francoeur. And here's the really amazing part: This was the second time this season Prado has called his shot. Earlier this season, at Chase Field, he was introduced to another special needs fan through teammate Willie Bloomquist, told him he'd hit a homer for him and delivered.
"It was very cool," Prado said.
Paul Hagen is a reporter for MLB.com. This story was not subject to the approval of Major League Baseball or its clubs.