Arroyo finding his late-season stride
Arroyo finding his late-season stride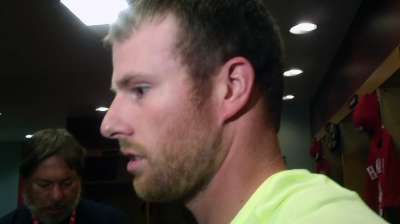 CINCINNATI -- The importance of a pitcher's win total has become a subject of debate in an era of advanced statistics, but they still mean a lot to pitchers like Reds starter Bronson Arroyo.
Arroyo has won each of his last four starts, including Saturday's 6-3 victory over the Brewers, in which he gave up three runs on seven hits over seven-plus innings. This consistent stretch has given the right-hander a 13-9 record and 3.42 ERA in his 26 starts this season. He had 12 wins for all of 2012 and nine in 2011.
In his last four starts, Arroyo owns a 2.33 ERA and has not walked a batter, extending his streak to 29 2/3 innings without issuing a free pass. He's the only Reds pitcher since 1900 to run a streak of four consecutive starts with no walks and at least six strikeouts in each game. This stretch has come on the heels of his worst start of the season -- seven runs in 3 2/3 innings in a 13-3 loss to the Cardinals on Aug. 2.
"It's been a great run for me," said Arroyo, who won a career-best 17 games in 2010. "I always look for one of these runs late in the season. It usually happens in August or September where I can catch three, four wins in a row. My schedule is going to get a bit tougher now in Colorado [on Friday] and with St. Louis coming back here. It's been nice to take the four wins that I felt I should do."
The longest-tenured Reds player with his 2006 arrival, and in the final year of his three-year, $35 million contract extension, Arroyo has been a stopper even though he's not the staff ace. The Reds are 10-1 this season in games Arroyo starts after a team loss. Arroyo, 36, has a 7-1 record in those contests.
"There's definitely a bit of pressure there, when you know if you lose, the ballclub is going to kind of be in a somber mood," Arroyo said. "You then have to hand that responsibility to someone else, who is going to have to try and dig us deeper out of a downhill slide. It's always been fun for me to pitch on days after we've won ballgames. It's just a coincidence I've won so many of them. It makes it a little more satisfying."
Mark Sheldon is a reporter for MLB.com. Read his blog, Mark My Word, and follow him on Twitter @m_sheldon. This story was not subject to the approval of Major League Baseball or its clubs.