Garza off his game as Rangers drop series
Garza off his game as Rangers drop series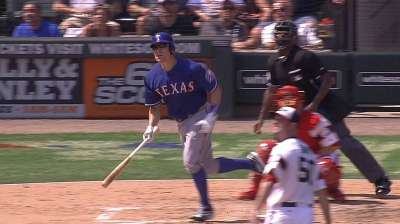 CHICAGO -- The Rangers' surge as the American League's hottest team momentarily paused this weekend at U.S. Cellular Field, where the White Sox took two of three from Texas.
Solo home runs by Chicago's Jordan Danks and Josh Phegley -- coupled by a weekend-long inability to get the big hit -- contributed to the Rangers' 5-2 loss in Sunday's series finale.
Sunday's defeat followed Saturday's walk-off blow, handing the Rangers consecutive losses for the first time since they dropped four straight from July 25-28.
The Rangers were 0-for-7 with runners in scoring position and stranded nine on Sunday. Texas was 3-for-20 with runners in scoring position in the series.
Third baseman Adrian Beltre -- the team's hottest hitter who reached base for the 21st straight game -- left five men on base Sunday.
"We had chances, especially myself. I think this one was on me," Beltre said. "I didn't get the clutch hit."
Texas' best opportunity came in the seventh inning when, with runners on first and second and one out, White Sox shortstop Alexei Ramirez bobbled a tailor-made double-play ball to bring up Beltre with the bases loaded. But Beltre hit the first offering from reliever Matt Lindstrom to third baseman Jeff Keppinger, who started an inning-ending double play.
It was the second inning-ending double play Beltre hit to third. In the fifth, Beltre lined a low line drive caught by Keppinger. The White Sox third baseman then stepped on the bag to nab Elvis Andrus, who was a few feet down the line.
It was the seventh-inning at-bat that disappointed Beltre the most, however.
"The last at-bat I should have had a better at-bat. I threw that at-bat away," Beltre said. "Especially in that situation with one out. I just made a mistake and I wasn't able to get a hit or keep the rally going."
Former Rangers farmhand John Danks held the Texas offense in check through six strong innings, allowing only a two-run home run to Jeff Baker in the fourth.
"I kept us in the ballgame. It wasn't pretty. It was a battle for sure," Danks said. "The command was not anywhere near where I'd like it to be. I was able to make enough pitches to give us a chance."
Rangers right-hander Matt Garza did the same, but took the loss after allowing five runs (four earned) and striking out eight in seven innings.
Garza pitched well aside from the two solo homers, as the game's second run scored on a dropped sacrifice fly by center fielder Craig Gentry.
"I felt I had really good command of everything," Garza said. "I left two pitches up and paid dearly for them, but other than that, I thought I threw well."
Sunday was Garza's seventh start for the Rangers since he was acquired from the Cubs last month. Although his numbers in those seven starts (3-2, 4.44 ERA) aren't as good as his last six outings with the Cubs (5-1, 1.24), the Rangers are 5-2 in Garza's starts. Manager Ron Washington said he still believes Garza is a "tremendous pitcher."
"He's still a good pitcher and a few games for us is not going to change our mind in why we got him," Washington said. "There's a lot of games left to be played and he's got quite a few more starts and he'll get on track."
Garza said he felt better on Sunday than in previous outings, though noted he's not completely satisfied with what he's done in a Rangers uniform.
"No, you're never content. You always want to keep getting better every time out," Garza said. "I had good stuff and pitched my game and ended up on the wrong side."
Cash Kruth is a reporter for MLB.com. Follow him on Twitter at @cashkruth. This story was not subject to the approval of Major League Baseball or its clubs.