Santana makes young fan's dream come true
Santana makes young fan's dream come true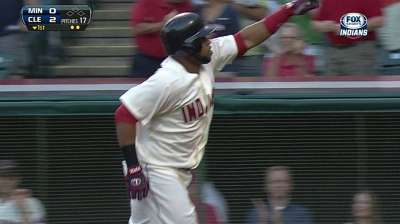 CLEVELAND -- Niko Lanzarotta was thrilled to have met his favorite Indians player prior to Saturday's game at Progressive Field. Carlos Santana chatted with the young fan during batting practice and gave him a signed bat as a keepsake.
Eight-year-old Lanzarotta -- diagnosed with cerebral palsy at eight months old -- had one more request.
"He said, 'Hey, Carlos, can you get a home run for me?'" Santana said. "I said, 'OK, I promise.' It made him happy."
In the first inning, Santana kept his word.
Cleveland's catcher turned on a 1-1 pitch from Minnesota's Liam Hendriks, sending the baseball through a strong wind for a no-doubter that sailed to the right-field seats. On a day when the weather was turning hard-hit fly balls into outs, Santana's missile of a homer was not going to be denied.
Lanzarotta was at the game with his parents, Mike and Kasia, who are expecting twins later this year. The family enjoyed pregame access to the field when Kasia's boss used Tribe Rewards to secure the experience for the young Indians fan and his family, which lives in Strongsville, Ohio.
The Indians noted that Mike Lanzarotta said his son fell in love with baseball while playing NEO Challenge Baseball in Brecksville, Ohio -- a league open to those with disabilities. Niko became a big Tribe fan, and the Cleveland club has gone a perfect 6-0 in games he has attended.
Of course, Saturday's events took things to a new level.
It turns out that Niko also got to meet Jason Kipnis, who gave him a signed bat, too. Perhaps pushing his luck, Niko also asked the Indians' second baseman if he would hit a home run for him. Kipnis said he would try, and he came through with a two-run shot into the bullpen down the right-field line in the third inning.
"It was an awesome experience," Mike Lanzarotta told the Indians. "It was the best day of his life. To meet Carlos, to be that close, and for him to hit a home run ... to see your kid that happy is a great thing."
Jordan Bastian is a reporter for MLB.com. Read his blog, Major League Bastian, and follow him on Twitter @MLBastian. This story was not subject to the approval of Major League Baseball or its clubs.