Mauer getting plenty of rest back home
Mauer getting plenty of rest back home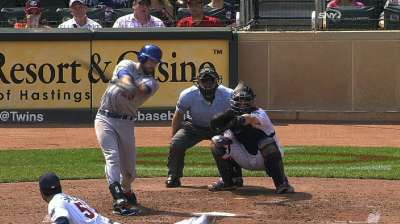 CLEVELAND -- Twins catcher Joe Mauer is a guy who likes to sleep a lot, according to the club's assistant general manager, Rob Antony.
That's good, considering that Mauer has been instructed to take it easy for a few days. Mauer, who went on the seven-day disabled list on Tuesday with concussion-like symptoms, is at his home in Minnesota, and the Twins expect to see him when they return to Target Field during the upcoming week.
"He's had his moments where he hasn't felt great, and other times where he's felt fine," Antony said. "Basically, we just told him to rest and we'll talk about it and see how he's doing on Tuesday."
That's when Minnesota opens a three-game series with Kansas City at Target Field, following an off-day on Monday. The Twins do not expect Mauer to return to their lineup during that brief homestand. After the Royals series, the club will be back on the road for meetings with the Rangers and Astros.
Through 113 games, Mauer has 11 home runs and 47 RBIs, with a slash line of .324/.404/.476.
"I don't think he's going out or doing much of anything," Antony said. "As much as anything, we just want him to lay low. The doctors said the best thing for those things is rest, so that's what he's doing."
Mark Emery is an associate reporter for MLB.com. This story was not subject to the approval of Major League Baseball or its clubs.