Danks brothers steal the show in finale vs. Rangers
Danks brothers steal the show in finale vs. Rangers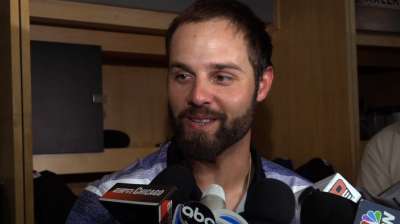 CHICAGO -- The Danks brothers took care of business for the White Sox on Sunday afternoon and spoiled Matt Garza's return to Chicago in the process.
Jordan Danks hit a go-ahead homer in the fourth inning and John Danks threw six solid innings to earn the victory in a 5-2 White Sox win in their series finale with the Rangers at U.S. Cellular Field.
According to the Elias Sports Bureau, Jordan Danks' go-ahead home run was the first time since June 5, 1955, that a player homered in support of his brother on the mound, when Kansas City catcher Billy Shantz homered for brother Bobby.
"I think it's pretty cool," Jordan said. "Any time I'm able to come into the game, especially when John's pitching, I definitely want to do something cool. I wasn't trying to hit a home run there, but I ended up running into one. It was a very cool feeling."
Jordan Danks entered the game in the fourth inning when starting right fielder Avisail Garcia crashed hard into the wall in pursuit of a Jeff Baker line drive that just cleared the fence for a game-tying, two-run homer -- Baker's fourth of the season against the White Sox.
Garcia underwent tests for a concussion, and the tests came back negative.
After finishing the inning on defense for Garcia, Danks stepped to the plate in the bottom of the fourth and delivered a solo shot to right off Garza -- who was making his first start in Chicago since being traded by the Cubs on July 22 -- to give the White Sox a 3-2 lead.
"[Garza's] got real good stuff and I knew that," Danks said. "He came in and threw me a pretty tough inside fastball so I knew it was going to be a tough at-bat. He ended up hanging one and I ran into one. I was very fortunate."
His brother took it from there, holding the Rangers scoreless over the next two frames before turning the ball over to the White Sox bullpen.
The left-hander allowed two runs on eight hits, walking one and striking out five to notch his second consecutive win after an eight-start winless streak. Danks has now tossed at least six innings in a career-high 12 straight starts.
It wasn't all smooth sailing for Danks, however, as the Rangers put runners in scoring position against him in each inning from the third through the fifth. Texas went 0-for-7 on the afternoon with runners in scoring position, and finished the series 3-for-20 in that situation.
"I didn't think Danks was tough on us," Rangers manager Ron Washington said. "He had a tremendous changeup, always did have a tremendous changeup. He was able, at times, to spot his fastball where he wanted to and he broke out his curveball today, so he pitched. ... The more trouble he got into, I think we just didn't do what we had to do."
Danks said he pitched well enough to win, but wasn't at his sharpest.
"I kept us in the ballgame," he said. "It wasn't pretty. It was a battle for sure. The command was not anywhere near where I'd like it to be. I was able to make enough pitches to give us a chance. Obviously, I would like to go deeper and be a little more efficient, but sometimes that's just tough."
Adam Dunn stroked an RBI single to score Alexei Ramirez in the sixth, and Josh Phegley hit a solo homer to left in the seventh to make it 5-2.
The White Sox opened the scoring in the third. Dayan Viciedo hit a leadoff single to center and Garza walked Phegley. Alejandro De Aza moved the runners over with a sacrifice bunt, and Gordon Beckham hit a line drive to Craig Gentry in center that he reached up to grab, but had it tip off his glove, allowing two runs to score.
With the win, the White Sox clinched their second consecutive series victory over the Rangers for the first time since taking two series in a row from 2001-02. Chicago has also won 14 of its last 20 contests, including eight of its last nine.
White Sox manager Robin Ventura said his club has a different look with some of the players who are seeing more action, and it's resulting in a different feeling for the team.
"You have different people and it molds in or morphs into something else," Ventura said. "Garcia's in right, Phegley is playing on a more regular basis. Any time you're putting different people in there a different kind of a feeling happens and they're playing well. ... So you're looking at a team that just feels different."
There have been many role players in the club's recent success, but on Sunday, the Danks duo took center stage.
John Danks was happy to see his brother's fourth-inning drive go out of the ballpark.
"That was fun to see," he said. "Obviously, it's a little extra special that it was Jordan. For us to score two and we give two right back, it kind of took the wind out of our sails a little bit and he picked us up. It was a big boost to us and like I said, it's extra special that it was Jordan."
Jordan Danks said that it seems to be a trend that he hits well when playing in a game started by his brother.
"I mentioned earlier when I was talking to my mother on the phone that if I can get into the game when John's pitching, good things always happen," he said. "I don't know. The bat just seems to find the ball."
But that might not be all there is to his success when John is on the mound.
"That and I don't want [John] to yell at me," he added.
Manny Randhawa is an associate reporter for MLB.com. This story was not subject to the approval of Major League Baseball or its clubs.