Twins' brain trust weighing September callups
Twins' brain trust weighing September callups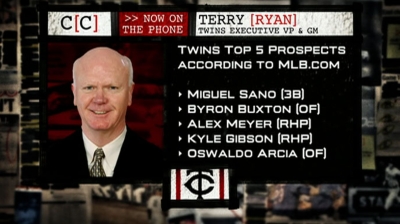 CLEVELAND -- In one week, the Twins will be playing September baseball. That means the organization must begin thinking about how it will configure its expanded roster.
Minnesota general manager Terry Ryan is currently in Rochester to get a better grasp on his Triple-A players. He, assistant general manager Rob Antony and Twins skipper Ron Gardenhire will meet when the club returns to Minnesota next week to discuss possibilities for September callups.
"What do we need, No. 1, for September?" Antony said, listing the questions that will guide the Twins' decisions. "What do we want to see? What are our objectives? Then, we'll figure out who we want to bring up."
Starting pitching is probably Minnesota's most pressing concern at this point in the season. The team optioned Kyle Gibson to Rochester on Tuesday, after the right-hander went 2-4 with a 6.53 ERA in 10 outings. Gibson's replacement in the rotation, Liam Hendriks, pitched on Saturday and gave up seven runs in 4 1/3 innings.
"Terry is going to have a time here when he gets back from Rochester," Gardenhire said. "That's why he went there, to see who we're going to bring in, pitching-wise. That will probably tell us a little bit more, where we need to go."
The team is monitoring Mike Pelfrey's innings, and is wary of the right biceps tendinitis that has bothered Samuel Deduno. Gardenhire likes the idea of a six-man rotation, though he admitted it's difficult enough to find five capable starters.
With the active roster eligible to expand to 40 players on Sept. 1, the Twins could very well rely on a pitcher currently in the Minors to make a start down the stretch. Doing that, however, comes with many things to consider.
"You don't want to leave yourself short here, and you don't want to blow up a team that's going or has a chance to be in the playoffs," Antony said, referring to Rochester, which entered Sunday leading the Wild Card race in the International League. "It's kind of that fine line. OK, if we bring this player, are they going to play, or are they just going to be on the bench and available if we need them? ... You don't want to have too many guys.
"You factor all those things in, then maybe it's better to leave them there and let them play, experience a playoff race and everything else -- because you're trying to teach guys how to win, too. It's all part of the development process. We'll weigh all those things."
Mark Emery is an associate reporter for MLB.com. This story was not subject to the approval of Major League Baseball or its clubs.