Astros' sweep attempt ends on Lo note
Astros' sweep attempt ends on Lo note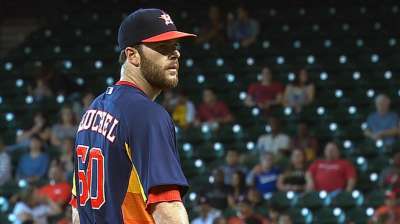 HOUSTON -- Astros manager Bo Porter put it best Sunday afternoon when he suggested Hollywood would have come calling had Cody Clark been able to come through with the bases loaded and two outs in the bottom of the ninth inning.
Clark, the career Minor Leaguer making his first career start, had a chance to deliver the hit of a lifetime when he stepped to the plate with the Astros trailing by a run, but the fairytale ending wasn't meant to be.
Clark grounded out to end the game, as the Blue Jays survived a tenuous finish after rallying for a pair of runs in the top of the ninth inning off closer Chia-Jen Lo to break a seven-game losing streak with a 2-1 win over the Astros at Minute Maid Park.
"There was no doubt in my mind I was going to get a hit right there," Clark said. "I knew I was going to get a hit. It didn't happen today."
Lo (0-2) entered the game in the ninth with a 0.90 ERA in his first nine career outings and struggled to throw strikes. He allowed the first four hitters he faced to reach, including three via walks. A bases-loaded free pass to Moises Sierra tied the game and gave the Astros their 23rd blown save.
Lo was pulled after striking out Kevin Pillar, and reliever Kevin Chapman got Ryan Goins to hit a slow chopper to second base that allowed pinch-runner Anthony Gose to scoot home with the winning run and help the Jays avoid the sweep.
"I think today was just one of those days," Porter said. "[Lo's] been outstanding up to that point. Today was the first time out in which he did not attack the strike zone and he ended up walking a number of guys. I don't think it's something we will read into too deeply. I think he'll be fine moving forward."
The Astros took a 1-0 lead into the ninth after left-hander Dallas Keuchel threw seven scoreless innings, allowing four singles and three walks. Josh Fields worked a scoreless eighth to get the ball to Lo, who's alternating with Fields as closer.
"We really did like our chances," Porter said. "Looking at the way it stacked up, we had the guys in there that we wanted. Lo just lost his command. He lost his command, and it ended up really hurting us with his inability to throw strikes there in the ninth."
It was a familiar ending for Keuchel, who has left five of his last seven starts either winning or tied, but has just one win to show for it.
"The bullpen is no different from starting in the sense of you have your off days," Keuchel said. "You're not always going to be sharp. It's how you battle. I thought Lo did a great job of battling, even though he walked a few guys. He did a great job for us. He had a 0.90 ERA before today. It's one of those things."
Keuchel, who has thrown at least seven innings in three of his last four starts, seemed to feed off the quick pace of the game dictated by Toronto starter Mark Buehrle, who got the win after holding the Astros to seven hits and one run in eight innings.
"I knew I had Buehrle opposing me and he tends to be pretty fast," Keuchel said. "My main goal was not to look up at the clock. I try to go as fast as possible and give our team a chance to hit, but he was matching me pitch for pitch and it was actually pretty fun."
Buehrle, pitching at Minute Maid Park for the first time since saving Game 3 of the 2005 World Series for the White Sox, reached the 10-win plateau for the 13th consecutive season, matching CC Sabathia for the longest current streak in baseball.
"I'd rather forgo some of the personal stuff to be in a better position than we're at right now," Buehrle said. "But at the end of the day -- and once the season is over and you look back at it -- right now I feel like I'm having a decent season, but I still have six or seven starts left, so I have to go out there and finish strong and try to get as many wins as I can."
The only run the Astros scored against Buehrle came in the second inning when they loaded the bases with no outs and watched Jake Elmore hit into a double play to score Matt Dominguez, who led off with a walk.
"Those veteran guys, when you get them on the ropes early, you really want to do everything you can to put crooked numbers up and give yourself a cushion," Porter said. "As you can see, he got out of that and only gave up a run. He gets into a groove and he ends up going as far as he went."
Brian McTaggart is a reporter for MLB.com and writes an MLBlog, Tag's Lines. Follow @brianmctaggart on Twitter. This story was not subject to the approval of Major League Baseball or its clubs.