Gosewisch laughs off pair of outs vs. position players
Gosewisch laughs off pair of outs vs. position players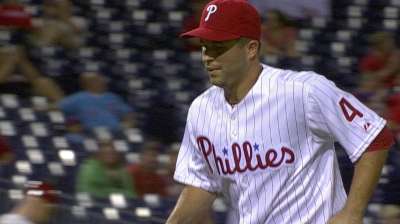 PHILADELPHIA -- No matter what Tuffy Gosewisch does the rest of his career, this will always be part of his resume: He made two outs in the 18th inning of Saturday night's 12-7 win over the Phillies, against two different position players, outfielder Casper Wells and infielder John McDonald, who were pressed into mound duty.
"You can't think about that," he said with a smile. "I just wanted to win. I didn't look at it like that. Nobody wants to strike out against a position player, but you can get ticked off or laugh about it. Johnny Mac is a good guy, and he's got that on me for the rest of his life. I've already gotten a good ribbing about that, but it's not bad.
"Wells was throwing 90-91, throwing a changeup to right-handed hitters. He was throwing harder than [Phillies pitcher Tyler] Cloyd. He has a good arm. I think he could probably be a pitcher."
Noted right-hander Brandon McCarthy, who will start against the Padres on Monday night at Chase Field: "It had gotten to the point where you start counting down how many hours of sleep you can get."
McCarthy said he wasn't inclined to give Gosewisch a hard time.
"I think, in a game like this, no matter what you do, you'll end up a historical footnote," he said. "We were playing a baseball game that turned into a cricket match. It took forever."
The D-backs are 14-5 in extra-inning games this season.
"We don't work on it in Spring Training, how to keep the game tied," McCarthy said wryly. "It starts to get aggravating."
Paul Hagen is a reporter for MLB.com. This story was not subject to the approval of Major League Baseball or its clubs.