Rays come up short in extra-inning loss to Yankees
Rays come up short in extra-inning loss to Yankees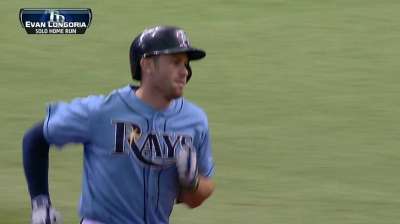 ST. PETERSBURG -- The Rays continue to chase first place in the American League East because of their ability to win tight games.
But with such a reliance on timely hitting and shutdown pitching, the margin of error is thin, and Tampa Bay finished Sunday's 3-2 loss to the Yankees at a sold-out Tropicana Field on the wrong side of the ledger thanks in large part to one small but glaring mistake.
Both teams received quality outings from their respective starting pitchers, neither allowing for many offensive opportunities. As the game rolled into the 11th inning, Alfonso Soriano broke through with a one-out double off of Rays reliever Jamey Wright.
On the first pitch of the following at-bat, Soriano broke for third base, sliding under Evan Longoria's tag, and the Yankees outfielder eventually scored on Curtis Granderson's routine fly ball to center field.
Wright looked back at Soriano twice, but the Rays' infielders were shifted, playing for Granderson to pull the ball to the right side. Shortstop Yunel Escobar was the only player in the vicinity of second base.
"It didn't even cross my mind that he was going to steal," Wright said. "I should have made a move. He had a big lead. I should have stepped off. That's my fault right there. When [Soriano] hit the ball, I knew (Granderson) still needed a base hit to score a run, and I wasn't going to give it to him, and all of a sudden, they don't need a base hit."
Manager Joe Maddon refused to lay the blame on any one player, saying "it's on everybody," but Soriano saw something he liked in the way the 28-year-old Wright came to the plate.
"It wasn't a good jump, not really, but I see a guy slow to home plate. … I saw that [Yankees manager Joe Girardi] gave me a green light and I said I want to see one pitch, what he did at second, but as soon as he looked twice, you're not going to look three times to second, so I said now is a good chance."
Soriano's stolen base will be remembered as the difference in the game, but the Rays missed perhaps their best chance to sweep the series in the first inning.
Tampa Bay's first three hitters reached base, with newly acquired leadoff man David DeJesus scoring on a single from Longoria, but the early rally was killed by James Loney grounding into a double play.
The Rays grounded into four double plays Sunday, Jose Lobaton's 10th-inning, pinch-hit at-bat among them.
"The double play hurt us today," Maddon said. "There's no other way to look at it. It's a great play when you do it. It's a bad one when they do it."
Once the Yankees had a lead in the 11th, Mariano Rivera shut the door for his 37th and final regular-season save at Tropicana Field. Longoria, who has five RBIs in his last three games, made solid contact against Rivera but lined the ball directly to Granderson.
"When I hit it and I looked up, I thought it was going in the gap, but he was right there," Longoria said. "I thought it had enough to get over his head, but I guess they were playing no doubles [defense]. I guess the baseball Gods were giving Mo some love there."
Rays starter Alex Cobb was efficient in his third start since returning from the disabled list after recovering from a concussion he suffered on the mound on June 15, allowing two earned runs and striking out five.
One of those runs came by way of a fourth-inning home run from Robinson Cano. Cano picked up another RBI in the sixth on a double.
"That was one of the dumber pitches of my career to Cano right there," Cobb said of the home run. "It was poorly executed and poorly thought out. He does what he does with mistake pitches."
By losing, Tampa Bay (74-54) missed the chance to complete the fourth sweep of New York in team history. Nonetheless, the Rays have now won 15 of their last 18 series.
"If we win series, especially within the division, that's going to put us where we want to be," Longoria said."
Sam Strong is an associate reporter for MLB.com. This story was not subject to the approval of Major League Baseball or its clubs.