Small ball helps Yanks to extra-inning win over Rays
Small ball helps Yanks to extra-inning win over Rays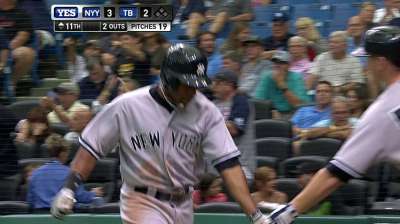 ST. PETERSBURG -- When the Yankees started seriously debating the idea of re-acquiring Alfonso Soriano about a month ago, there was just one statistic needed to tip their decision behind closed doors in the war room: he hits home runs, and they desperately needed them.
Soriano has held up that end of the bargain quite nicely since slipping the pinstripes back on, but his legs proved to be a nice bonus on Sunday. His 11th-inning steal of third set up the go-ahead run as the Yankees posted a 3-2, 11-inning victory over the Rays at Tropicana Field.
"When the team needs one and the pitcher gives it to me, I like to steal," Soriano said. "That's my game. It's very important to help the team to win. I love to do that, I love to steal bases."
Soriano may not have the same speed he once did as a young Yankee, but he made up for it with experience.
After a one-out double, Soriano correctly clocked the Rays' Jamey Wright as being slow to the plate; given the green light from the bench, he stumbled a bit but still managed to swipe third with a head-first slide.
That made the task easier for Curtis Granderson, who lifted a deep fly ball to center field that allowed Soriano to trot home. Mariano Rivera locked down the save in what was likely his final appearance at The Trop, setting down the Rays in order for his 38th save of the season.
"Each day that ticks off, we've got to make up more ground," Yankees manager Joe Girardi said. "This is obviously one of the teams we're chasing, and this place has been a tough place for us to win."
Following tough losses in the first two games of the series, New York's rally averted a possible sweep by the Rays. It marked just New York's sixth win in its last 22 games here dating back to July 21, 2011.
"We needed a win so bad," said Robinson Cano, who homered and drove in two runs against Rays starter Alex Cobb. "There's nothing you want less than to get swept here."
Cobb scattered seven hits over 5 2/3 innings, hit hardest by Cano, who launched his 24th home run of the season in the second inning.
"Probably one of the dumber pitches of my career to Cano right there," Cobb said. "It was just poorly executed, poorly thought out, and he obviously does what he does with mistake pitches."
Cano briefly gave New York a lead with a run-scoring double in the sixth that drove home Ichiro Suzuki. Cano matched up nicely head to head at the plate with Evan Longoria, who paced the Rays' charge against Yankees starter Ivan Nova with a homer and two RBIs of his own.
It was an erratic start for Nova, who tied a career high with six walks (one intentional) but still managed to hold Tampa Bay to two runs and six hits over 6 2/3 innings.
"Even though I walked six guys, I got to the seventh inning and I gave the team a chance to win the game," Nova said. "I'm not worried about that. That's personal. We needed a win, and we got it today."
Longoria delivered a first-inning RBI single to left field that chased home David DeJesus, a frame that had red flags everywhere but saw Nova escape by getting James Loney to hit into a timely 5-2-3 double play.
With Nova protecting a one-run lead in the sixth, Longoria homered for the third time in the series, blasting his 28th long ball of the year over the left-field wall. The homer was the first Nova had allowed since July 5 against the Orioles in New York.
"Nova battled," Girardi said. "When you look at his line, he threw a lot of balls (50 in 102 pitches), but he found ways to get outs and he did a good job."
After Chris Stewart threw out DeJesus stealing to end the seventh, the Yankees' bullpen was stellar. David Robertson pitched two scoreless frames to send the game into extra innings, and after Joba Chamberlain issued a one-out walk in the 10th, Boone Logan induced Jose Lobaton to hit into an inning-ending double play.
The Yankees had threatened in the 10th against Wright as Alex Rodriguez came off the bench and delivered a single -- amazingly, the first pinch-hit of his career (1-for-15).
But Rodriguez froze and was doubled off as Ichiro lined back to the mound; a dose of bad luck on the basepaths right before Soriano enjoyed his good fortune there an inning later.
"The Rays, that's a team that we have to beat if we want to make it to the playoffs," Soriano said. "Those good teams, they're in front of us. Now we have some momentum to go to Toronto. Hopefully we play better and the offense picks it up a little more."
Bryan Hoch is a reporter for MLB.com. This story was not subject to the approval of Major League Baseball or its clubs.