Stults solid, but Samardzija limits Padres
Stults solid, but Samardzija limits Padres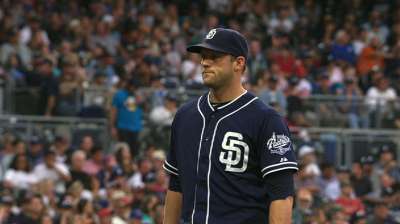 SAN DIEGO -- Momentum, the old adage says, is only as good as the next day's starting pitcher.
A day after the Padres equaled their largest come-from-behind win at Petco Park, Cubs right-hander Jeff Samardzija made sure the Friars' momentum did not extend any further.
He was one step ahead of Padres hitters all night, tossing eight innings of two-run ball, as the Cubs won the second game of the three-game series, 3-2.
Trailing by two in the eighth, the Padres loaded the bases off Samardzija with no outs but mustered only one run, and Kevin Gregg worked a 1-2-3 ninth to seal the victory for the Cubs.
"[Samardzija] wobbled a little bit there in the eighth, but he hung in there," Padres manager Bud Black said. "He threw strikes. He got away with the one pitch to Jedd [Gyorko]."
That one pitch was a splitter that Samardzija left up in the zone on a 1-2 count. Gyorko, one of the club's hottest hitters, missed by an inch, hitting a harmless, mile-high popup to left.
After a passed ball and an intentional walk, Samardzija fanned Logan Forsythe with the tying and go-ahead runs in scoring position.
"Being efficient early in the game allows you to have that cushion of pitches to work through some of that stuff," said Samardzija, who threw 106 pitches -- 21 coming in the fateful eighth inning. "To get out of that felt really good."
San Diego lefty Eric Stults was solid, but he could not contain Cubs second baseman Darwin Barney, who knocked in the Cubs' first two runs and scored the third.
Barney put the Cubs ahead in the top of the fifth inning with a solo home run. Stults left an 0-2 changeup over the middle of the plate, and Barney lined it into the first row of seats in left field.
"That was a changeup inside, and I haven't thrown too many of them this year," said Stults, who allowed three runs on six hits in 6 1/3 innings. "So it was probably not the right pitch selection. He cheated to a fastball the pitch before, so we thought maybe we'd get him thinking fastball-in. He'd seen fastball-in. But it just kind of leaked out over the plate a little bit."
Will Venable evened the score an inning later when he crushed a hanging slider into the right-field seats for his team-leading 19th home run of the season.
There are not many hitters in baseball hotter than Venable is these days. The right fielder is batting .375 with eight home runs since the All-Star break, and his last three long balls have tied the game or given the Padres a lead.
Venable has been shredding opposing pitching for about a month and a half, blurring the line between a simple hot streak and a breakout season.
"Let's see," Black said. "But it's nice to watch that he's swinging the bat well and getting his hits. You'd like to think so -- that this can be sustained. He's confident; he's got momentum; he's repeating his swing. He's doing a lot of great things."
Barney made sure the game was not tied for long, however. Two batters after Darnell McDonald walked to open the seventh, Barney roped a double to left, ending Stults' night.
"That leadoff walk was what killed me -- especially after I had him down, 0-2," Stults said. "Then I just didn't make a very good pitch to Barney there. But other than that, I felt like stuff was good, but I just came out on the short end."
On Barney's double, shortstop Logan Forsythe airmailed his relay throw into the second row behind the Padres' on-deck circle, negating what might have been a close play at the plate. Reliever Nick Vincent then allowed a two-out RBI single to Cubs first baseman Anthony Rizzo, scoring Barney.
That run proved to be the difference as Samardzija worked his way in and out of trouble in the eighth. The Padres appeared to be in business when Alexi Amarista laid down what Cubs manager Dale Sveum called "the most perfect bunt" to load the bases. The ball danced back and forth between the cut of the infield grass and the foul line, finally coming to a rest between the two in fair territory.
But Samardzija followed that with two flyouts, an intentional walk and a strikeout, ending the Padres' best chance of the night.
AJ Cassavell is a reporter for MLB.com Follow him on Twitter @ajcassavell. This story was not subject to the approval of Major League Baseball or its clubs.