Barney's bat brilliant behind stellar Samardzija
Barney's bat brilliant behind stellar Samardzija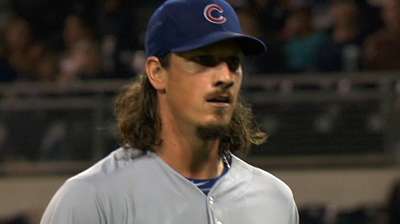 SAN DIEGO -- The best thing about the eighth inning Saturday night was not that Jeff Samardzija escaped a bases-loaded mess with no outs, giving up only one run, but that manager Dale Sveum left the right-hander alone to figure it out.
Samardzija struck out seven over eight innings, and Darwin Barney smacked a solo home run and an RBI double to lead the Cubs to a 3-2 victory over the Padres at Petco Park and even the series.
Coming off a complete game victory against the Nationals, Samardzija scattered seven hits and walked two. He has totaled 176 1/3 innings this year, passing his personal high of 174 2/3 innings set last season, his first as a starter. The right-hander is also closing in on his single-season strikeout high of 180, set last season. He has fanned 175 this year.
His biggest K on Saturday was his last one. Trailing, 3-1, Padres pinch-hitter Mark Kotsay walked to open the eighth, and Will Venable singled. Alexi Amarista then delivered what Sveum called "the most perfect bunt" toward third, with the ball just staying fair as catcher Dioner Navarro, third baseman Donnie Murphy and Samardzija watched it roll. With the bases loaded, Yonder Alonso hit a sacrifice fly.
One out later, the runners moved up on a passed ball. Chase Headley was intentionally walked, but Samardzija struck out Logan Forsythe to end the inning.
"That's why you leave a guy like that in the game," Sveum said. "Getting strike one for him is huge. When he gets that, those are usually all his good games."
"Being efficient early in the game allows you to have that cushion of pitches to work through some of that stuff," Samardzija said. "To get out of that felt really good."
Neither Sveum nor pitching coach Chris Bosio went to the mound in the eighth to calm Samardzija down. They have had to do so a few times this season when the starter gets in what Sveum calls "gorilla" mode. Was Samardzija surprised Sveum left him in there?
"I wasn't," Samardzija said. "Me and Dale might have had a meeting down there in the dugout if he had taken me out. That's what Dale is all about. Dale's all about putting confidence in his players. He lets our hitters swing in bunt situations; he lets our pitchers hit.
"There are a lot of under-the-radar things that he does that puts confidence in the players, and he did it for me there, too," Samardzija said. "He didn't come out and have a mound visit or anything. As a player, that says a lot. You're out there understanding this is your inning, your game. You don't want to waste that or give it back, and you want to say, 'Hey, I appreciate that and I'm going to do good work for you.'"
Samardzija is one win shy of his career high of nine set last season, when he was shut down early after reaching his innings limit. Getting out of the eighth Saturday night was a giant step in his development.
"The biggest thing is your manager sees it, and your pitching coach sees it," Samardzija said. "If you put confidence in them that, 'Hey, he's gotten out of this before, let's give him another shot,' that's what you want. The confidence snowballs, and you end up getting out of those things."
The right-hander finished strong at the end of last season, and he is in a good rhythm now.
"It's just about putting in that work to stay strong now and knowing that you give it all in the last month and leave it all out there," Samardzija said.
"He's got good stuff," Headley said of Samardzija. "It really looked like he had the split-finger going. ... He's always a guy that when you face him -- if he's got command -- he's going to be tough."
San Diego's Eric Stults was the first lefty the Cubs faced since Aug. 8, ending at 15 a streak of games against right-handed starting pitchers. Sveum overloaded the lineup with right-handed hitters, with Anthony Rizzo the only lefty in the mix.
Barney tied his career high in home runs, set last year, when he hit his seventh with one out in the fifth to give the Cubs a 1-0 lead, driving an 0-2 changeup into the left-field seats.
On Friday, the Cubs blew a six-run first-inning lead and lost, 8-6. Venable, who hit a go-ahead home run in the seventh Friday, tied the game with a one-out home run in the sixth, launching a 1-1 slider from Samardzija to right.
Darnell McDonald walked to open the seventh and scored one out later on Barney's double off the wall in left. Barney reached third as shortstop Forsythe's relay throw sailed into the seats. Stults was lifted, and Nick Vincent struck out Samardzija but hit Starlin Castro on his left hand with a pitch. With runners on the corners, Rizzo hit an RBI single for a 3-1 lead.
The Cubs have tried to find someone to handle the No. 4 spot in the lineup since Alfonso Soriano was traded. What about Barney? Sveum laughed at the suggestion.
"He's everywhere," Sveum said. "You can use him at the top of the order, too. He's a really good eighth hitter; he's really turning into one because he's seeing so many pitches and getting walks."
"It's hard to get comfortable there," Barney said about batting eighth. "A lot of times you're waiting to see what the pitcher is going to do to you. ... My job is to get on base and get on base in front of the pitcher and either turn the lineup over or give him an opportunity to bunt me over. I think I've been hitting there the past couple years, and it's no big deal. I'm more comfortable [eighth] than I am seventh. You have a plan and know what the process is and stick to that."
Would he like to bat fourth?
"No chance," he said. "After I hit the homer, I told Murph, I 'Murphied' that ball. We'll let him continue to do that, and I'll take my singles."
With the win, the Cubs are 7-5 on the road against National League West teams with four games remaining (one vs. the Padres and three vs. the Dodgers). They were 1-18 against the West away from Wrigley Field last year.
Carrie Muskat is a reporter for MLB.com. She writes a blog, Muskat Ramblings, and you can follow her on Twitter @CarrieMuskat. This story was not subject to the approval of Major League Baseball or its clubs.