Miller, early blasts boost Cards into tie for first
Miller, early blasts boost Cards into tie for first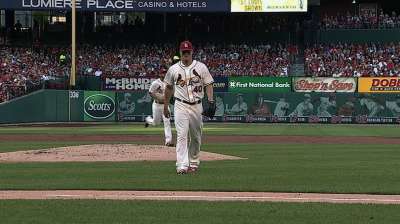 ST. LOUIS -- Manager Mike Matheny welcomed the string of questions last month, insistent that everyone else's focus on the team's power outage could reverse the trend.
Correlation between the discussion and player execution, of course, is non-existent. However, the home runs are indeed coming with more frequency these days, and on Saturday, a pair of solo shots behind Shelby Miller's strong performance laid the foundation for the Cardinals to take a 6-2 win over the Braves.
A night after Matt Holliday hit a go-ahead home run in the seventh inning, 43,633 fans at Busch Stadium watched Matt Carpenter launch a game-tying shot and Carlos Beltran later follow with a go-ahead blast. The Cardinals would later pad their lead with a slew of in-the-park hits en route to winning their fourth straight game. Coupled with Pittsburgh's loss in San Francisco late Saturday night, St. Louis moved into a first-place tie in the National League Central.
"They have a great ballclub over there," Carpenter said. "For us to be where we are so far in this series says a lot about how we're playing right now."
Carpenter's second career leadoff homer negated the solo shot Freddie Freeman hit off Miller in the opening frame. And once Beltran hit his team-leading 23rd homer of the year in the third, Miller had the luxury of pitching with a lead for the rest of his seven-inning night.
Miller didn't just protect the one-run advantage. He dominated an Atlanta offense that has not won since outfielder Jason Heyward went on the disabled list. No one besides Freeman reached second again until the ninth, when the Braves scored once on three straight hits off Randy Choate and Seth Maness.
Sensational defensive plays by Jon Jay -- who took an extra-base hit away from Brian McCann with a leaping catch in the seventh -- and Daniel Descalso -- whose diving stop initiated a forceout in the eighth -- helped thwart potential trouble from arising.
Edward Mujica closed the night with a three-pitch save.
"It's a combination of tough pitching, and we're not swinging it right now really well," Braves manager Fredi Gonzalez said. "Sometimes you run into a hot team like they are right now."
The victory ensured the Cardinals a series win against the Braves, who swept St. Louis in Atlanta last month. The Cards will go for their second four-game sweep of the season on Sunday.
"All around, a great game by all of us," said Miller. "We really put it together. The biggest thing is to keep what we have going for us. We're playing really well."
While the Cardinals lament a reliance on the long ball, they are now 45-16 when going deep. Nine of those wins have come in August, a month in which the Cardinals have tallied 21 homers in 23 games. The uptick in blasts comes after the club hit just nine in July.
"I think it's just been a funny year in terms of home run," Carpenter said, seeking an explanation. "I really do believe, for whatever reason, the stadium is playing a little bigger this year. I don't know why. It could be the strange weather that we've had this season. It wasn't your typical St. Louis summer, and now it's starting to heat up. There's no question the ball carries better when it's hotter here."
It was 92 degrees at first pitch on Saturday night.
The Cardinals had five hits and five walks off Atlanta starter Julio Teheran, who had shut them out on two hits in a seven-inning start a month ago.
They capped their scoring by collecting three run-scoring hits with runners in scoring position in the seventh and eighth. Holliday's double drove home two. Yadier Molina picked up his sixth RBI in eight games since coming off the DL with a single to center. Beltran's two-out single in the eighth drove home Shane Robinson, who singled twice after entering the game in the seventh.
Beltran finished the night with three hits. He's hitting .386 with four homers and 14 RBIs this month, a significant improvement over the August numbers (including a .211 average) the right fielder had last year.
"I feel the same," Beltran said. "Right now, I'm just getting better results."
The results were improved for Miller, too, who hadn't finished seven innings in any of his last 13 starts. Featuring a cutter that he added to his pitch repertoire in his last start, and being aggressive in the bottom of the zone, resulted in better efficiency. Both also made Miller's high fastball more effective.
"It was a different style, a little bit," Matheny said. "He was electric, but he was in the lower part of the zone more tonight than we've seen in a long time. ... I think it's a great lesson for him. That high pitch that he has is definitely a big part of his arsenal, but being able to hit the bottom and making them put the ball in play is going to be real important."
Miller, who allowed only two hits (both singles) after Freeman's blast, also pointed to the power of focus. Pitching coach Derek Lilliquist and rotation-mate Adam Wainwright had noticed Miller's tendency to let frustration rattle him. The rookie right-hander was aware of the issue, too. And so he took the mound Saturday intent on correcting it.
"When I give up runs or have a bad inning, I've been letting it get to me," Miller said. "Obviously, tonight I give up a home run to the third batter of the game, but the big thing is I didn't get mad about it. I just kept pitching. I told myself, 'That's all they're going to get.' I was staying locked in more."
With six strikeouts, Miller moved into fifth place among Cardinals rookie pitchers with 151 this season. He didn't walk a batter for the fifth time in 25 starts, and Miller joins Dodgers starter Hyun-Jin Ryu as the only National League rookies with 12 wins.
Jenifer Langosch is a reporter for MLB.com. Read her blog, By Gosh, It's Langosch, and follow her on Twitter @LangoschMLB. This story was not subject to the approval of Major League Baseball or its clubs.