Braves' slump continues behind Teheran in St. Louis
Braves' slump continues behind Teheran in St. Louis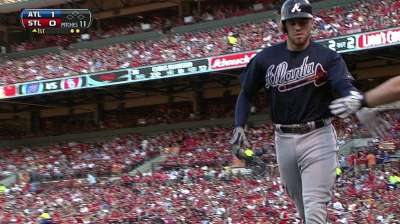 ST. LOUIS -- There never would have been an optimal time to lose Jason Heyward. But as the Braves have learned, it is certainly not good to do so leading into a series against St. Louis' talented pitching staff.
It is far too early for the Braves to panic or begin worrying about a late-season collapse similar to the one that crushed their postseason hopes two years ago. But the recent offensive woes, which were extended during Saturday night's 6-2 loss to the Cardinals have created an immediate sense of concern.
"We've got to start swinging the bats," Braves manager Fredi Gonzalez said. "What did we have, [four] hits going into the last inning? And we end up getting three there in the last inning. We need to keep the line moving offensively. I think our pitching will be fine. But we need to start swinging the bats again."
The Braves have totaled five runs in the three games played since Heyward suffered a broken jaw on Wednesday. There is no doubt the club misses their dynamic outfielder, who had produced a .418 on-base percentage since moving into the leadoff role on July 27. But this sudden offensive decline has also been influenced by the challenge of having to face Joe Kelly, Adam Wainwright and Shelby Miller in the first three games of this four-game set.
Despite their recent woes, the Braves still have a 12-game division lead over the Nationals, who have won five straight games.
"It's a combination of tough pitching and we're not swinging it right now really well," Gonzalez said. "Sometimes you run into a hot team like they are right now."
Miller limited Atlanta's weakened offense to three hits over seven solid innings. The only run surrendered by the 22-year-old rookie came courtesy of Freddie Freeman's two-out home run that gave Atlanta a lead that was erased when Matt Carpenter began the bottom of the first with the first of the two solo home runs surrendered by Julio Teheran.
Teheran allowed four earned runs and issued a season-high five walks -- including three on just four pitches -- in six-plus innings. The 22-year-old right-hander had allowed fewer than two runs in five of his previous six starts. One of those starts was completed on July 27, when he limited St. Louis' potent offense to two hits over seven scoreless innings.
"I didn't have my best stuff, but I was battling the whole game and trying to keep my team in the game," Teheran said. "I knew from the first inning that it was going to be a hard day for me. But I knew I had to compete."
It did not take long to see this night would be trying for Teheran, who allowed Carpenter to notch his second career leadoff homer on a 1-2 slider over the right-field wall. Two innings later, Carlos Beltran hit a 2-2 slider that also cleared the right-field fence.
This marked the fifth time Teheran has allowed at least two home runs in a game this season. The most recent occurrence had come against the Reds on July 14. But he entered Saturday having surrendered a total of just two homers in his previous six starts.
"It's not that he didn't have it," Braves catcher Brian McCann said. "He just wasn't as sharp as he has been in the past."
Despite laboring through his 110-pitch effort, Teheran kept the Braves within one run until he ended his night by allowing pinch-hitter Shane Robinson and Carpenter to begin the bottom of the seventh with consecutive singles. Right-handed reliever David Carpenter entered with runners on the corners and allowed three hits that allowed St. Louis to construct a three-run inning, highlighted by Matt Holliday's one-out, two-run double.
"[Teheran] made those two mistakes to me and Carlos, and we were able to get a little momentum in the inning where he ended up getting pulled," Matt Carpenter said. "He's got good stuff, good command."
After allowing Freeman's home run, Miller retired 19 of the final 22 batters he faced. The only other hits he surrendered were singles, including the one Andrelton Simmons notched with two outs in the seventh inning.
"We hit a lot of balls hard tonight," McCann said. "We just didn't get a rally going. They made good plays when they had to."
Miller's strong performance enabled him to avenge the loss he suffered while allowing the Braves three runs in 5 2/3 innings in Atlanta on July 28. The only earned run he surrendered through the first five innings that night came via a Heyward solo home run.
After notching four hits through the first eight innings, the Braves tallied three more in the ninth, including two with two outs. Gerald Laird's RBI double made the final score more respectable and prompted the entry of Edward Mujica, who sent three splitters past Elliot Johnson to end the game.
There's no doubt the Braves miss Heyward's presence at the top of their lineup. But Gonzalez believes the outfielder's absence is just one of the reasons his offense has suddenly gone flat.
"It's throughout the lineup," Gonzalez said. "I don't think the effect of one guy gets through the bottom of the lineup. It's something that we need to keep getting after."
Mark Bowman is a reporter for MLB.com. This story was not subject to the approval of Major League Baseball or its clubs.