Pagan to rejoin Giants when rosters expand
Pagan to rejoin Giants when rosters expand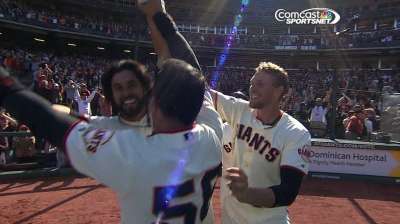 SAN FRANCISCO -- September may not mean much to the postseason hopes for the Giants, but it will mean everything to outfielder Angel Pagan.
Pagan, who is on a rehab assignment after undergoing left hamstring surgery in late June, will return to the Giants when rosters expand on Sept. 1 and will play as often as possible.
"This is similar to Spring Training for him," Giants manager Bruce Bochy said before Saturday night's game against the Pirates. "We have to get him needed at-bats, help him get his timing back."
Pagan incurred the injury May 25 on an inside-the-park home run in the 10th inning of a win over the Colorado Rockies.
Less than a month later, on June 20, he pulled up running out a grounder for Class A San Jose in a rehab assignment. He was carted off the field and underwent surgery a few days later.
Pagan appeared in 46 games with the Giants before going on the shelf. San Francisco was 27-22 after he scored the winning run in May. They are 29-50 since.
Pagan remains an important piece to the Giants' future, and Bochy figures he needs to get back into the rhythm of a season before it ends.
"It will be an important offseason for him," Bochy said. "He's not feeling anything in the leg right now, but he does need to get used to game speed. September will be a big month for him. At-bats next month will help him in the long run."
Rick Eymer is a contributor to MLB.com. This story was not subject to the approval of Major League Baseball or its clubs.