After umps review play, Pillar tallies first career homer
After umps review play, Pillar tallies first career homer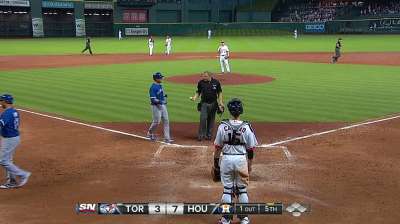 HOUSTON -- Blue Jays rookie Kevin Pillar hit his first career home run on Saturday night, but it didn't exactly happen in a traditional way.
Pillar crushed a 3-2 fastball from Astros right-hander Brad Peacock and sent it deep into left-center field during the fifth inning. The ball hit off the wall and was initially ruled a double by second-base umpire Tim Timmons.
Blue Jays manager John Gibbons immediately came out to argue while Pillar stood on second base. The play was then reviewed and replays would later show that the ball hit above the yellow line on the left-center field wall.
"When I got to second base I thought I hit it pretty good and thought maybe it had a shot going over the fence," Pillar said. "I tried to play it cool, but eventually I walked over to the second baseman and shortstop to ask what they thought, to see if one of them would tell me if it went over the fence. But they said 'I don't know' so I just had to wait."
The original ruling was eventually overturned and Pillar was credited with his first home run after a brief delay. Anthony Gose and Ryan Goins also scored on the three-run shot that came on the hard liner and cut the Astros lead to 7-3.
In a special moment, home-plate umpire Bill Miller handed the ball to Pillar as he crossed the plate. It was something the rookie from California said he will always remember.
"The umpire flipped me the ball before I crossed home plate and that was pretty awesome," Pillar said. "All of the umpires so far have just been really kind and with the new guys coming up, talking to us, helping us through some stuff, congratulating us on some things.
"Great feeling. In this game, there are special moments and that's one you'll never forget. You'll never forget your first hit, first home run, first time you step on the field."
The home run came just two days after Pillar recorded his first Major League hit with a sharp single to center field against the Yankees. He is now batting .133 with four RBIs in 10 games this season.
Gregor Chisholm is a reporter for MLB.com. Read his blog, North of the Border, and follow him on Twitter @gregorMLB. This story was not subject to the approval of Major League Baseball or its clubs.