Cubs aim to help Jackson meet expectations
Cubs aim to help Jackson meet expectations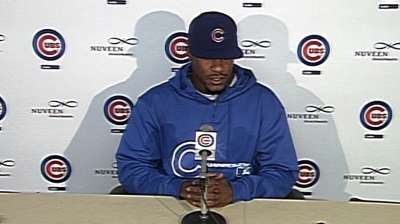 SAN DIEGO -- Edwin Jackson shouldered the blame for Friday's 8-6 loss to the Padres in which the Cubs right-hander blew a six-run first-inning lead. But pitching coach Chris Bosio said it was not just Jackson.
"There's one thing that we are as a team: We win together as a team; we lose together as a team," Bosio said. "We could've helped him out; he could've helped himself out. Last night, we did not close the deal as a team.
"I know he had some issues with his offspeed pitches, and he hung a couple and they got hit extremely hard," Bosio said. "That's what we've seen of Edwin this year. ... Yeah, we expect more out of Edwin, and I know he expects more out of himself. It's a constant work in progress with him."
Jackson is 7-13 with a 5.00 ERA in 25 starts, and he is 0-2 with a 6.95 ERA in four August starts.
"The bottom line is yes, there are more expectations out of Edwin than what we've seen, and he's been pretty candid about it that he's not lived up to that," Bosio said of the right-hander, who signed a four-year, $52 million contract this offseason with the Cubs, his first multiyear deal.
"What can he do differently? Work harder and try to execute the pitches," Bosio said. "In this game, it's a game of results, and he's got to give it done."
Carrie Muskat is a reporter for MLB.com. She writes a blog, Muskat Ramblings, and you can follow her on Twitter @CarrieMuskat. This story was not subject to the approval of Major League Baseball or its clubs.