Ludwick keys rally with HR, Arroyo solid in win
Ludwick keys rally with HR, Arroyo solid in win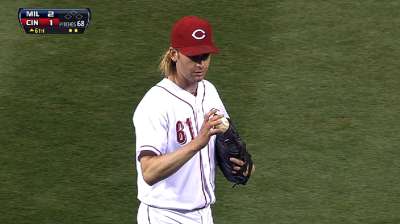 CINCINNATI -- Reds left fielder Ryan Ludwick ended a more than four-month stint on the disabled list last week, but the search for hitter's normalcy has taken him a little longer.
One more first was crossed off the list Saturday when Ludwick led off the sixth inning with a home run -- No. 1 for the season. It started a big inning for the Reds, as they snapped a tie game and took a 6-3 victory over the Brewers. For Ludwick, it's been a work-in-progress to get his swing back after returning from a separated shoulder suffered on Opening Day.
"Am I where I want to be? No," Ludwick said. "Did I expect to be in midseason form right now? Maybe a little bit. I think that's a lot of expectations to put on myself. I might have gotten down on myself a little bit early when I started off really slow."
Ludwick was activated from the DL on Aug. 12 and started out 0-for-11. Over his last six games, he is 8-for-20 (.400).
"Luddy is a veteran. He knows how to hit," Reds manager Dusty Baker said. "He's in the middle of that lineup. He gets frustrated when he's not doing what he thinks he should do, even though he doesn't have very many at-bats. He's doing better."
In the first five innings against Brewers starter Wily Peralta, the Reds notched seven hits. Other than Chris Heisey's solo homer to left field, they had little to show for it. A big chance was missed in the fourth when Ludwick hit a leadoff broken-bat single and Jack Hannahan hit a double to left-center field. Ludwick tried to score from first base on the hit and was thrown out at the plate. Hannahan went to third base on the throw, but was left stranded.
With 103 pitches, Peralta did not return for a sixth inning, and the Reds pounced all over his replacement, ex-closer John Axford. Ludwick started the inning when he drove a 1-0 pitch over the fence near the left-field corner.
"I hit that and then came up my next at-bat and felt like Superman," Ludwick said. "I was actually more thrilled with the ball I hit at the shortstop [in the seventh] than I was the home run. I hit it harder than the home run, more pure. I stayed behind the ball. There was no hook or sink to it. That's my swing. The home run is not my swing. I got around that ball and it had topspin. The ball I hit at shortstop is the hardest ball I've hit since I've been here and the best swing I've taken since I've been here."
Hannahan followed Ludwick's homer with a single that was stopped behind second base. Zack Cozart worked a full count before he came through with a two-run homer to left-center field for the lead.
"The home runs, balls were left up and tracked over the plate, and guys took advantage," Axford said.
Cozart -- who entered 0-for-5 lifetime vs. Axford -- had been without a homer since Aug. 4, but has been hot over his last 10 games, going 11-for-33 (.333). Unlike Ludwick, Cozart -- batting .243 in 119 games -- has been waiting all season for an extended period of good results.
"I feel better. I'm relaxed more," Cozart said. "I think early in the year and last year, when I [had] guys on base, I kind of put too much pressure on myself wanting to be too perfect with it. The last week or so, I said, 'You know what? I'm going to go up there and try to put a good swing on it and whatever happens, happens.' I think it's worked out well for me."
Leading off the seventh against southpaw Michael Gonzalez, Joey Votto lifted a 2-2 pitch the opposite way for a homer to left-center field -- his 19th of the season -- for a three-run lead. It was also career homer No. 152, which tied him with Pete Rose and Joe Morgan for 15th on the Reds' all-time list. A Cozart two-out RBI single scored Brandon Phillips to provide breathing room.
Almost all of the offense chipped in to support Reds starting pitcher Bronson Arroyo, who tossed seven-plus innings and gave up three runs and seven hits with six strikeouts. It was the fourth-straight start without a free pass for the right-hander, which extended his no-walk streak to 29 2/3 innings.
Arroyo's night did not begin smoothly, as he opened the second inning with three straight hard-hit balls that led to a pair of runs, and Milwaukee took a 2-0 lead. But after that, Arroyo kept the Brewers in check through the seventh.
"You know Bronson can do that sometimes and settle down," Baker said. "The next thing you know, you're in the seventh. His pitch count was relatively low when I went to get him. I also know that it can happen rather quickly on the other end, too."
Arroyo, now 13-9 and with four straight quality starts, returned for the eighth inning. He gave up a leadoff homer to right field on a 2-2 pitch to pinch-hitter Caleb Gindl, followed by a Norichika Aoki single. J.J. Hoover got the Reds out of the inning, aided by a Jonathan Lucroy double play started neatly by Phillips.
Aroldis Chapman hit a batter but struck out the side in the ninth, notching his 33rd save. The Reds have won 10 of their last 14 games.
"When you're playing good baseball and take three out of four from Arizona, you don't want to lose two in a row, especially after last night when we thought we had a chance to win and didn't," Arroyo said. "It's nice to kind of keep the ball rolling and feel like we're on a nice win streak."
Mark Sheldon is a reporter for MLB.com. Read his blog, Mark My Word, and follow him on Twitter @m_sheldon. This story was not subject to the approval of Major League Baseball or its clubs.