Peralta solid, but Axford can't solve Reds
Peralta solid, but Axford can't solve Reds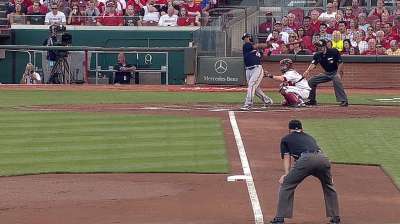 CINCINNATI -- Brewers manager Ron Roenicke wants to rely on John Axford. When Milwaukee has a lead, such as the one it had Saturday night against the Reds, Roenicke wants to be able to put Axford in the game and feel confident that the lead will still be intact when the 30-year-old right-hander walks off the mound.
Unfortunately for the Brewers, that was not the case on Saturday.
Armed with a 2-1 lead over the Reds, Axford took over for starter Wily Peralta to begin the sixth inning. Fourteen pitches later, Axford had given up three straight hits, including two homers, as Milwaukee went on to lose to Cincinnati, 6-3, at Great American Ball Park.
"It was just two bad fastballs," Axford said of the home run pitches. "Both leaked a little bit. The other ones were ground balls that worked out. Some were hit a little bit better, but they were still ground balls where I wanted them to be, where you need them to be.
"The home runs, balls were left up and tracked over the plate, and guys took advantage."
Axford has now given up 10 home runs on the year, matching a career high he set last season. Following an eight-game stretch in which he didn't allow a run, Axford has allowed 11 earned in his last 12 appearances (11 innings), bumping his season ERA to 4.53.
"I feel good when I'm out there," Axford said. "I've been mixing things up and doing things a little bit differently and trying to get back into a good groove again. Today, I really just have to look at those two pitches and try to just leave it at that."
For a two-month stretch earlier this season, Axford was about as good as it gets. In 32 appearances (28 innings) from mid-May to late-July, he allowed just one run while registering 26 strikeouts. Then he went three straight outings at the end of July in which he gave up a total of five runs, leaving Roenicke wondering which Axford he's going to get on a nightly basis, the one that's nearly unhittable, or the one that struggles to keep his fastball down in the zone, leading to blown leads.
"That's the problem, it's hard to know," said Roenicke when asked where he currently stands with Axford. "When he's right, I want him in there when we've got leads or depending on the inning. He's got to be more consistent. He was for a long period of time."
Before the three runs off Axford, Peralta had done his best to help the Brewers keep their 2-1 lead.
Saturday marked Peralta's second straight start against the Reds, who tagged him for seven runs on eight hits and four walks in just 4 1/3 innings on Sunday in Milwaukee. He didn't have nearly the same struggles on Saturday, working around six hits in the first four innings without allowing a run.
The Reds finally got to Peralta in the fifth, when Chris Heisey hit a solo homer for Cincinnati's only run off the 24-year-old right-hander.
Peralta, who threw just 61 of his 103 pitches for strikes, said he didn't have his slider on Saturday, but he wasn't entirely discouraged with his performance.
"Those kind of days are going to happen," Peralta said. "When those things happen, you just have to battle and do the best that you can to keep your team in the ballgame."
Hiesey's blast cut the Brewers' lead in half, as Khris Davis opened the scoring and continued his scorching play with an RBI double in the top of the second. The next batter, second baseman Scooter Gennett, gave the Brewers a 2-0 advantage by hitting a sacrifice fly to deep center field, scoring Carlos Gomez.
For Davis, it was his fifth RBI in his last three at-bats, as the rookie left fielder connected on a pair of two-run homers in Friday's 6-4 win. The double also extended his hit streak to 10 games.
A popout and strikeout ended the second without any more runs crossing the plate, and the Brewers cooled off after that, picking up just two hits off Reds starter Bronson Arroyo in the next five innings.
"Luckily, I salvaged that inning to only give up two runs, which was big," Arroyo said. "If you give up a third one, it makes a bit of a difference. We just stayed steady and came back and took the lead, which sometimes can be more satisfying than taking the lead right off the bat."
Caleb Gindl added a pinch-hit homer off Arroyo to lead off the eighth, but the Reds had jumped ahead in the sixth and added two more runs in the bottom of the seventh.
The Brewers dropped to 2-6 at Great American Ball Park this year and 4-13 the last two seasons. Axford has been no stranger to struggles in Cincinnati, as he has now given up 10 runs in 9 1/3 innings in the Queen City.
"Definitely had my ups and downs here as well, dating back -- well, I think just about every time I've pitched here, blowing saves or leads," Axford said. "It's just kind of been one of those places where we seem to put together one game, and other games, it just kind of falls apart."
Jeremy Warnemuende is an associate reporter for MLB.com. This story was not subject to the approval of Major League Baseball or its clubs.