Brach re-entering Majors with confidence
Brach re-entering Majors with confidence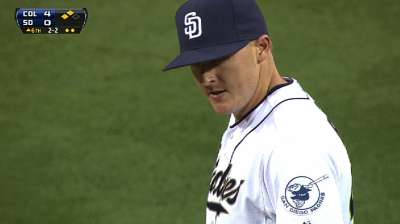 SAN DIEGO -- The Padres recalled reliever Brad Brach from Triple-A Tucson on Saturday to replace Edinson Volquez on the active roster.
Brach, a 27-year-old right-hander, began his fourth stint with the big league club this season Saturday night against the Cubs. In 25 appearances for the Padres, Brach posted a 3.97 ERA.
The New Jersey native spent time at Triple-A Tucson perfecting his follow-through, making certain he always finished toward home plate. But the most important adjustment Brach said he made with the Tucson Padres was between the ears.
"Confidence was a big thing -- just being confident in myself," Brach said. "It's been a very up-and-down year, and confidence has been hard to keep."
Manager Bud Black said that would be the key for Brach, who has walked 11 hitters in 22 2/3 innings this season.
"Like for all pitchers, especially for guys that are trying to re-establish themselves in the Major Leagues, just [throw] first-pitch strikes, get ahead, put guys away," Black said. "Brad's got the stuff."
AJ Cassavell is a reporter for MLB.com Follow him on Twitter @ajcassavell. This story was not subject to the approval of Major League Baseball or its clubs.