CC's strong effort turns sour in costly sixth
CC's strong effort turns sour in costly sixth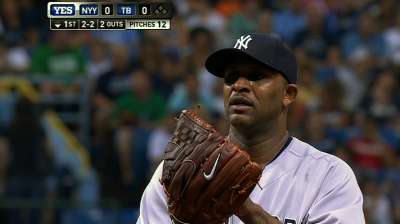 ST. PETERSBURG -- The Yankees challenged CC Sabathia to step up and deliver the ace-caliber performance that has been all too rare this season, and for five innings on Saturday, the left-hander provided exactly what his club was looking for.
Sabathia's stuff was crisp, arguably his best of the year, as he dominated by showcasing a fastball that sizzled in the mid-90s. But his command evaporated as the Rays plated three in the sixth inning of New York's 4-2 loss at Tropicana Field, prompting Sabathia to comment that his entire troubled year has felt like "one big inning."
"I feel like I can't stop the bleeding," Sabathia said. "If something gets going, it's hard for me to make a pitch. I was able to get it back tonight, but it has just been tough."
The loss was the second in as many nights for the Yankees, who lost a series for the first time in five matchups. Ben Zobrist's two-run double tied the game at 2, and Evan Longoria dropped a run-scoring single into left field that gave Tampa Bay the lead.
"I was feeling really good [after five innings]," catcher Austin Romine said. "That's the best I've seen him all year long. He just couldn't make those pitches when he needed to, and it just got away from him a little bit."
Sabathia said that he had started nibbling at the strike zone in the sixth after Sam Fuld opened the frame with a bloop single off the end of his bat. A four-pitch walk to Desmond Jennings followed, and when Sabathia fell behind Zobrist as well, the Yankees sensed trouble was coming.
"It just looked like he lost his command a little bit in that inning," Yankees manager Joe Girardi said. "That was the difference in the game. You look at what he did the first five innings, and then he kind of regrouped after he gave up the three runs and threw the ball well again."
There was an odd moment before Zobrist's double to left-center, as a ball thrown by Preston Claiborne got loose from the Yankees' bullpen and forced Sabathia to halt his delivery. Sabathia and Girardi both said they did not think the incident had any effect.
Longoria's eighth-inning homer off Claiborne served as insurance for closer Fernando Rodney, who silenced the heart of the Yankees' order in the top of the ninth for his 30th save, giving the Rays their eighth win in 10 games.
"I'm really pleased with our guys," Rays manager Joe Maddon said. "You've got to be in the dugout to understand. That game began today, and our guys believed we were going to win that game somehow -- not in a cocky way, just in a very confident way."
Sabathia's outing, which included just a single through five innings, could actually be chalked up as a quality start, though that didn't seem like it would be much consolation to him or the Yankees.
Sabathia completed 6 1/3 frames in a 112-pitch effort, scattering six hits while walking two and striking out seven. That was the kind of line the Yankees probably would have signed up for given his struggles this year, but those five dominant innings teased everyone.
"You look at the five innings -- it's probably the best five innings he's thrown all year in a group like that," Girardi said. "You do take a positive out of that, but we need to win games. That's the frustrating part."
Sabathia has won just four of his 23 starts against Tampa Bay since signing with the Yankees prior to the 2009 season. He's 4-12 with a 4.46 ERA against the Rays over that span.
"I threw the ball good early," Sabathia said. "I look forward to my next start, but this hurts."
The Yankees, who lost for the 16th time in their last 21 games at Tropicana Field, built a two-run lead for Sabathia against left-hander David Price. Both of New York's runs scored in the fifth inning, a rally keyed in large part by Romine.
With the bases loaded on three singles, Romine worked a full-count walk that forced home the Yankees' first run. He then stopped in the basepath on what could have been an inning-ending double play, evading a tag from Zobrist that permitted Vernon Wells to score on Ichiro Suzuki's high chopper to second base.
Price was done after six innings, having allowed five hits and a walk while striking out five. He escaped damage in the sixth when Alfonso Soriano got a hold of a deep drive, breaking into a home run trot, but the ball died in front of the left-field wall for an out.
"I think he thought he had a home run," Girardi said. "Guys are going to misread balls. It happens. When it happens, it doesn't look good, but they're human. He's hit enough of them. I'm sure he's pretty used to when he knows he gets one."
The Yankees couldn't capitalize on Curtis Granderson's one-out double in the seventh off Jake McGee, and Joel Peralta set down New York in the eighth before Rodney entered.
"We have a pretty good team," Yankees second baseman Robinson Cano said. "We can turn this around again. It's part of the game. The last thing you want is to just go out there and make mental mistakes. They beat us tonight."
Bryan Hoch is a reporter for MLB.com. Follow him on Twitter @bryanhoch and read his MLBlog, Bombers Beat. This story was not subject to the approval of Major League Baseball or its clubs.