Mariners repeat past mistakes; offense shut down
Mariners repeat past mistakes; offense shut down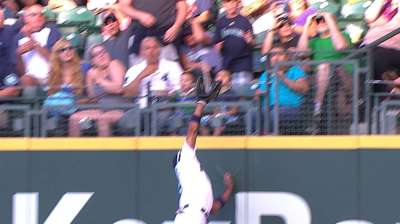 SEATTLE -- In retrospect, the deal that sent Kendrys Morales to the Mariners and Jason Vargas to the Angels appears to have been a win for Seattle. But it was Vargas who had the last laugh on Saturday night at Safeco Field, leading the Angels to a 5-1 victory over his former ballclub.
While the southpaw has been a solid starter for the Angels, Morales has been an invaluable contributor to the Mariners' lineup. He leads the team with a .283 batting average, and is also the club leader with 67 RBIs.
But on Saturday, it was Vargas who made the greatest impression, allowing just one run in 6 1/3 innings while striking out five batters. Morales finished the day 0-for-4, and was fanned by Vargas twice.
Vargas started 110 games for the Mariners over four years, compiling a 36-42 record and a 4.09 ERA. The lefty went 14-11 last year, his only winning season in Seattle.
Pinch-hitter Nick Franklin ended the Mariners scoreless streak at 16 innings in the bottom of the seventh with a groundout to score Humberto Quintero from third base. It was Franklin's first appearance since lacerating his leg in a home-plate collision on August 20 at Oakland.
Quintero reached third when Vargas was called for a balk, also advancing Dustin Ackley, who reached on a single.
"I heard somebody yell timeout," Vargas said. "I'm guessing it was Franklin, but the umpire didn't give him time. I heard it loud, so I thought it was the umpire. It just happened. ... I heard it as I was looking at second base. When I heard it loud like that, I assumed it was the umpire but it wasn't. That's all on me. I can't take that for granted."
Seattle left nine men on base and grounded into a pair of inning-ending double plays. Morales grounded into his 19th double play in the fifth inning, giving him the second most in the American League behind Kansas City's Billy Butler, who has 20.
"When we're good we're hitting fastballs," manager Eric Wedge said. "We're fouling fastballs back, we're swinging through some pitches. I thought we did a lot of chasing today, breaking balls out of the zone. It's not a good combination, missing fastballs and chasing breaking balls out of the zone."
Vargas' performance overshadowed Seattle rookie Erasmo Ramirez's (4-1) second strong start in a row. Ramirez took his first loss of the season, despite recording just his second quality start of the year. Over his last four starts the young pitcher has seen his ERA fall from 7.25 to 5.44
Ramirez went 6 2/3 innings, and he would have gone seven with only two runs allowed if not for a two-out fielding error by right fielder Endy Chavez on the last batter he faced that allowed a run to score.
The 23-year-old Nicaraguan has now allowed just three earned runs in his last 13 2/3 innings over two starts.
Mike Trout got to Ramirez early, coming back from an 0-2 count to tattoo a two-run homer to center field in the first inning. The homer came after the Mariners ended Trout's 40-game on-base streak, as well as his eight-game hitting streak, on Friday night. Ramirez has allowed a home run in six of his seven starts this season.
"He took a bat to my mistake and it was 2-0 in the first inning," Ramirez said. "But after that, I put in my mind that two runs are already there so I'm still in the game and needed to just go as deep as I could, because I still had the ball in my hands."
Chavez spared Ramirez further damage in the second inning, leaping in front of the fence to rob Hank Conger of a home run. The outfielder also led the team offensively with three hits.
Jacob Thorpe is an associate reporter for MLB.com. This story was not subject to the approval of Major League Baseball or its clubs.