Myers joins Rays staffers at coaches clinic
Myers joins Rays staffers at coaches clinic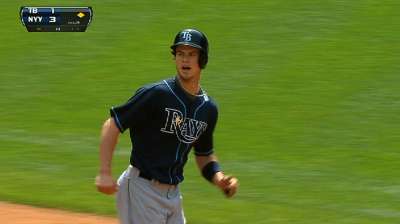 ST. PETERSBURG -- Rays pitching coach Jim Hickey arrived at Tropicana Field early on Saturday -- not to give special instruction to one of his pitchers, but to participate in a youth coaches clinic.
Hickey, head athletic trainer Ron Porterfield, strength and conditioning coordinator Kevin Barr and outfielder Wil Myers teamed to speak with 50 local baseball coaches about a myriad of baseball topics.
Porterfield and Barr touched on player safety, while Hickey fielded questions on everything from the pillars of his coaching principles to what age is appropriate to throw a breaking ball.
"It's a lot more productive if you can educate coaches, rather than trying to get to kids one at a time," Hickey said. "I really think the youth leagues will be better off when the coaching is better educated. I do really enjoy that."
The coaches had plenty of questions for Myers, a rookie. He didn't exactly have all of the answers.
"I just took some pictures with them," Myers said. "I don't have any wisdom to give anybody. It was cool to have them ask me what my pregame routine is. I thought it was kind of funny they were asking for advice from a 22-year-old."
Sam Strong is an associate reporter for MLB.com. This story was not subject to the approval of Major League Baseball or its clubs.