Segura still solid, but sees dropoff in extra-base hits
Segura still solid, but sees dropoff in extra-base hits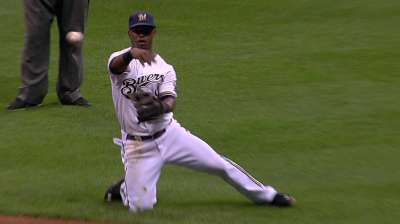 CINCINNATI -- Since the beginning of July, Brewers shortstop Jean Segura hasn't been quite as productive as he was to start the year. In large part, that's because he began the season batting .327 with 11 home runs and 32 RBIs through the end of June.
That average, which still sat at .304 entering Saturday, has dipped, with Segura batting .263 in 45 games since July 1. Manager Ron Roenicke admitted fatigue might be playing a factor. Segura was in the starting lineup for the 122nd time for Saturday's game against the Reds, after playing a full Spring Training and participating in winter ball. Last season -- his first taste of the Majors -- Segura played in just 45 Majors games with 102 appearances in the minors.
The Brewers have been limited at shortstop this season, but Roenicke said that hasn't been the problem when it comes to getting Segura rest.
"I can give him days off," Roenicke said. "But he doesn't really want them. We certainly want him in the lineup every day, but if I think one day here and there will help, I'll try to do that for him."
Roenicke said he thought about giving Segura a break on Saturday, but after an off-day Thursday and another one coming up Monday, he figured he would save the individual off-days for later in the season.
"He's going to need them later on," Roenicke said. "I know we have a stretch of 20 games at the end of the season, but I'll try to give him some days here and there. He doesn't seem quite the same. I don't know if that's fatigue or if he was just so hot early. We'll try to watch him."
One of the most noticeable differences for Roenicke regarding Segura is the lack of extra-base hits. Through his first 79 games, Segura collected nine doubles, eight triples and 11 home runs. In his last 45 games entering Saturday, he had nine doubles, but just one triple and one home run.
"I'm still pleased with what he's doing," Roenicke said. "We love him on defense. The offensive part, we hope he gets back to where he was, but he's still doing a good job."
Jeremy Warnemuende is an associate reporter for MLB.com. This story was not subject to the approval of Major League Baseball or its clubs.